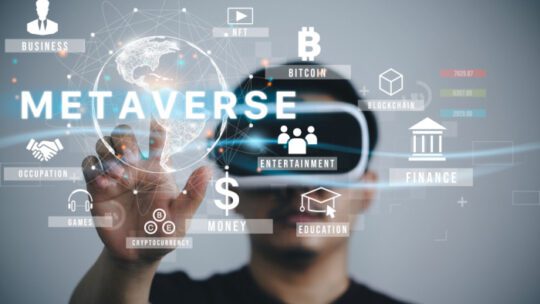 Nothing makes you realize how naïve you were than when you look back in time.
My friends still tease me about wearing a puka shell necklace I sported in the 90s. I even had flannel when grunge exploded out of Seattle.
But what about 2022?
What was that trend?
Wait for it, wait for it, wait for it…THE METAVERSE!!!
Cue Barbra Streisand's "memories of the way we were."
Just over a year ago, this category was near its peak in the hype cycle. Pundits, observers and analysts even said it was a real category. The nascent market for virtual reality (VR), augmented reality (AR) and the broader metaverse featured the willing participation of venture capitalists, who invested $120 billion on it in the first five months of 2022, according to McKinsey & Co.
At that time, I had a hard time believing that the metaverse was going to be a real thing. Although analysts and bankers were talking it up, and I heard lots of buzz at industry events, I was unconvinced that it was a market poised for explosive growth. But it seems I was wrong.
The metaverse mojo has continued into 2023, with more than 90% of investors predicting that it will be the "next phase of the internet and envision a future in which it is increasingly utilized for work meetings, trainings and learning experiences," as KPMG recently opined.
Entering the home stretch of 2023, I sense that the market is still feeling cautious about the metaverse and investment therein – with one major exception: Apple.
Vision Pro, WWDC and Wonderlust
Early this summer, Apple made a splash with its pricey, high-spec Vision Pro headset. Announced at the company's most recent Worldwide Developers' Conference, the Vision Pro was a shot across the bow of Apple's competitors – most notably Meta and its Quest headsets.
And now tech media are speculating that Apple will talk about this new metaverse product at its Sept. 12 Wonderlust event. CNET recently reported: "I can't imagine that Apple would pass up a chance to update everyone on its Vision Pro headset that was announced in June at WWDC."
Apple's Vision Pro will feature enhanced processing power and higher-resolution graphics, along with an eye-watering price of just under $3,500. But at that price comes considerable innovation, as industry sources report that the future versions of the Vision Pro will have adjustable optics, may eliminate secondary, hand-held controllers, and that Apple is already planning to integrate its own bespoke content offerings through Apple TV Plus.
Menlo Park and Redmond
The enthusiasm for the future state of the metaverse is also backed by investment from Meta, which is reported to have allocated as much as $70 billion to delivering on its metaverse vision.
Some of this investment was responsible for Meta's poor profit picture in 2022, when it recorded a staggering two-year operating loss of $23.9 billion for its Reality Labs division. That cratered the company's stock price, which has only recently recovered.
However, it is clear that Meta is betting long on the metaverse, and only time will tell if it gets a payoff due to Mark Zuckerberg's dogged pursuit of the category.
Microsoft was another company that appeared to be investing heavily in the metaverse space. But in early 2023, Microsoft's management pulled the plug on its "industrial metaverse" group, scuttling an investment of more than $10 billion to take a wait-and-see attitude.
More recently, Microsoft's long-delayed acquisition of Activision Blizzard – which was initially touted as a metaverse play – was approved by the Federal Trade Commission, gaining Redmond at least one foothold, thanks to a $70-billion takeover of the popular gaming company.
The Making of a Market
Until now, Meta has been competing against itself in the space, hammering out a series of updates to its metaverse product. These changes have been largely measured by Meta's own yardstick. As a "market of one," Meta has largely defined the metaverse space and dominated the headlines and public discourse. But one company does not a market make.
But what was once a Meta skunkworks project is now being recast as a viable market space.
Apple has signaled with its headset that the metaverse is no longer the playpen of just one billionaire; it is now the province of two! (Or three with Microsoft, at least from the gaming point of view.) Suddenly – with three big players on the global metaverse stage, innovation will accelerate, and we'll witness a slew of new products and solution offerings like those that Apple is working on, even before the official availability of Vision Pro in early 2024.
Now that Apple is involved in the metaverse, we can expect some more serious action. And the vertical integration that the company enjoys – combining hardware, software and content – means that the metaverse is going to get hot, and Meta and Microsoft will need to respond.
Metaverse Messaging
Moving forward, companies of all types will need to describe themselves within the framework of a larger – and now legitimate – metaverse market. A dynamic metaverse market will create significant interest from the public and investors, and will generate meaningful excitement.
This new landscape is also something for marketing and PR pros to get excited about. The metaverse will become a space where innovation will flower, and ecosystem partners, including content providers and independent software vendors (ISVs), will emerge or bring new solutions to bear. Venture capitalists are already joking about dusting off and reviving old metaverse pitches, and I expect that we'll see a lot of investment activity as the calendar turns to 2024.
The Meta/Apple two-horse race will make the metaverse the next big disruption in tech. Public relations and marketing people will need to anticipate how the metaverse will disrupt their businesses, just like we're in the process of putting AI into the context of the businesses which we represent.
What's more, marketers will need to adapt their approaches to the metaverse. Products like AI story pitch generators are already on the market, and the near-term future will undergo a similar transformation.
We'll soon be offering AR- and VR-based pitches and storytelling "experiences" to journalists. I can imagine a VR press tour of a new facility, perhaps a semiconductor factory, that would provide an unprecedented level of immersive detail to reporters. The possibilities for marketing events in the metaverse are huge, too. From virtual press junkets to virtual client pitches, the metaverse will impact PR and marketing very soon.
What this Means for PR
So with all this pontificating, what is the upshot to you?
First: companies should rethink their strategy of not having any competitors. If you are in a category of one, it's hard to get media to care.
That brings us to the second rule: when picking competitors, consider these two rules: punch up; and, go old school. Most companies are used to the David vs Goliath narrative and appreciate the need to take a giant down.
Furthermore, most tech companies are brought up on the notion that older companies are ensnared with legacy technology that once was cutting edge, but has grown old overtime and yet is too expensive to innovate or replace. Claiming your competitor comes from one or both categories greatly helps your positioning.
No matter how the metaverse unspools, it's inevitable that more major disruptions are still to come, even beyond the latest in AI and metaverse technologies. PR and marketing pros will continue to adapt and evolve, and change the ways that we do business yet again. This constant evolution keeps our field fresh, and the charge into the metaverse promises to be thrilling.
Until the next big thing comes around and forces us to confront the way we were.
Curtis Sparrer is Principal of Bospar.