▶The Intricacies of Big Data: Big data can be big business. Nevertheless, overall data collection has slowed down this year, compared to 2012, according to the Krux Cross Industry Study.
Yet third-party data collection that is beyond a site's control is still growing.
When it comes to making the most of your data, control is the name of the game; sites that can't manage or control their data will be at a greater risk of leakage, which could be detrimental and result in revenue loss.
Here are some other key findings from the study:
20% of all data collection is done through social/sharing widgets.
Commerce and marketer sites tend to collect most of their data from their own partners.
Average supply-side platform (SSP) collection dropped by 70%.
46% of all collection events were from high-risk collector categories.
Third-party collection companies have grown in number from 168 in 2011, to 328 in 2013.
"Everyone is a publisher," so it is crucial data assets are secure and being put to their best use.
Source: Krux Cross Industry Study
▶ Showing The Love for LinkedIn: Sexy is not always as sexy does. When it comes to social media, LinkedIn still remains the top social media network for business professionals, according to DHR International and Modern Survey.
Facebook may lay claim to the most users, and Twitter may be credited as a valuable aggregate for news and information, but it is LinkedIn that executives find to be the most valuable business tool.
But, to provide some context, it's important to keep in mind that corporate executives are not heavy users of social platforms, with nearly 60% reporting that they log in for less than an hour a week.
Still, it's still worth noting that the executive demographic prefers LinkedIn, which is information communicators should use to their advantage.
Here are some other tidbits from the study:
Only 30% of respondents were familiar with Pinterest and Google+.
90% of executives say they would use social media if it helped business.
86% of executives say they would use social media if they were looking for a new career.
Just under 50% of respondents indicated they would find more time to use social media if they had better experience with a given medium.
Sources: DHR International and Modern Survey
The Evolution of Instagram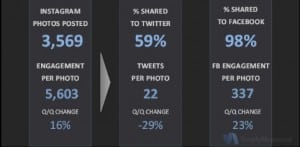 Facebook engagement via Instagram continues to climb, according to a exclusive study conducted by Simply Measured. Nearly all brand photos posted to Instagram are shared on Facebook, and of those, brands have seen an average of 337 likes, comments and shares per photo. This is up 23% from last quarter, which saw a similar growth trend over the quarter prior to that. Similar to Simply Measured's findings last quarter, Twitter engagement on Instagram photos has continued to drop. A symptom of Instagram dropping support for embedded images on Twitter: Fewer brands are sharing their content on the microblogging site, and engagement has continued to plummet, Simply Measured said. Facebook's increased efforts to integrate Instagram in your newsfeed has played a crucial role in this growth, but brands have become more socially savvy, and continued to integrate Instagram into their social campaigns.