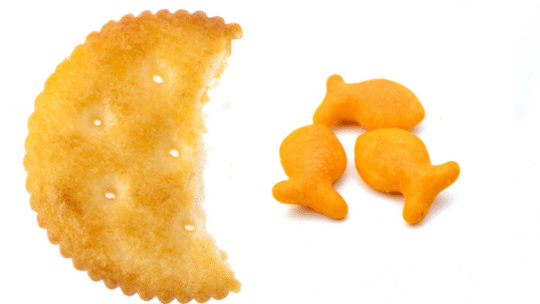 It hasn't been a good week so far for cracker makers and food phobia sufferers. Two snack food giants, Mondelēz Global and Campbell Soup subsidiary Pepperidge Farm, have recalled iconic cracker products because a whey powder supplier has notified them that its ingredient may be tainted by Salmonella, which can cause nausea, vomiting, diarrhea and fever, among other symptoms.
Mondelēz recalled several Ritz cracker sandwich products, while Pepperidge Farm recalled four varieties of Goldfish crackers. The recalls were precautionary; at the time of the recalls no cases of Salmonella related to the snack products had been reported.
Mondelēz and Pepperidge Farm used Twitter to relay information about the recalls, but visits to the company sites for both corporate entities revealed a stark difference between the two. Mondelēz's home page makes no mention of the Ritz recalls; the same goes for the company's online newsroom. There's a separate site for the Ritz crackers brand; a short alert about the recall linking to a press release runs in tiny text at the top of the Ritz home page.
Pepperidge Farm's home page features a large vertical box with this text in a large point size: "Voluntary Goldfish Crackers Product Recall Information."
Easy access to information about potentially tainted consumable products should come first, but covering all the bases is usually a challenge in a crisis for brands both large and small. Product recalls, in particular, can be immensely complicated as a communications team must work internally with its legal department, marketing team, C-suite, product engineers and sales department, and externally with retailers, consumers, health officials, the media and social media users.
This is where a crisis map comes in handy, to put it lightly. And we're talking about a real document, not a bulleted list of crisis management concepts. Writing specifically about product recalls in PR News' Crisis Management Guidebook, Stanton Communications CEO Peter Stanton says that "a crisis map brings structure into an otherwise chaotic situation, allowing [a] team to engage their critical thinking skills—an all-important element of crisis communications."
Peter Stanton's crisis communication process map, from PR News' Crisis Management Guidebook.
A brand doesn't have to be a cracker maker to be vulnerable to a crisis and fall prey to frenzy and chaos when things go terribly wrong. Print out this crisis plan, make copies, pass it around and discuss it before you get that fateful email from your version of a whey powder supplier.
Follow Steve: @SGoldsteinAI