PRNEWS has learned exclusively that APCO Worldwide added Arthur W. Page Society chair Charlene Wheeless to its International Advisory Council (IAC) as senior counselor. Wheeless is a former principal VP of global corporate affairs for Bechtel Corporation. Margery Kraus, APCO's founder and executive chairman, will make the announcement Monday.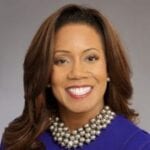 Wheeless will join a subgroup of APCO's IAC known as the Corporate Communications Strategies (CCS) unit. Its members are senior executives, including CCOs of global Fortune-level companies.
At Bechtel, Wheeless was responsible for global communications, issues and reputation management, sustainability, stewardship and public affairs. Before joining Bechtel in 2009, she served as a VP of communications for Raytheon's Intelligence & Information Systems division. In addition, she was site executive at its 700,000-square-foot facility. She left Bechtel in January after 10 years.
In a November 2019 interview with PRNEWS upon becoming Page's chair, Wheeless emphasized the importance of corporate transformation. "CCOs can—and really, we must—step up in new ways." She envisioned Page's role as "helping CCOs be stronger leaders who bring additional value to their enterprises—commercially and for society."
Community Leader
Wheeless chairs the board of trustees at HCA Reston Hospital, and is a member and past chair of the board for the Greater Reston (Virginia) Chamber of Commerce. In addition to her position at Page, she is a board member of the Institute of Public Relations and serves on the board of advisors for Reputation Institute. In 2017, National Journal named Wheeless one of the "25 Influential Black Women in Business."
"Charlene represents the highest standards in our industry, and we are thrilled to have the benefit of her expertise and counsel for ourselves and for our clients," Kraus said. "She has never shied away from tackling challenging issues or using her life experiences to help organizations and individuals make better decisions," Kraus added.
"I am delighted to join the APCO IAC and be among such a smart and gifted leadership group," Wheeless said.
Seth Arenstein is editor of PRNEWS and Crisis Insider Follow him: @skarenstein