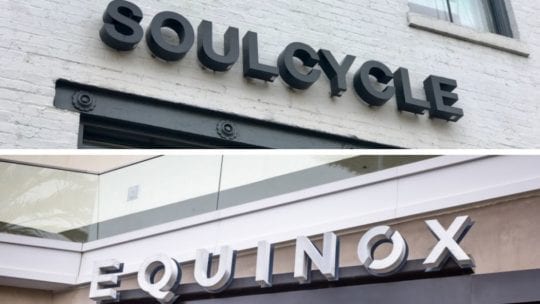 In a divisive political climate, brands need to be on top of their game with clear messaging and consistent behavior of everyone in the organization. Consumers do their research when deciding to make purchases and becoming a brand advocate, more now than ever. When stakeholders make moves that undermine a brand's central directive, supporters can publicly express outrage and ultimately cut ties with their advocacy.
The Washington Post reported that Stephen Ross, real estate investor, owner of the Miami Dolphins and chairman of the popular fitness chains Equinox and SoulCycle, would be hosting a political fundraiser for President Donald Trump at his Hamptons home this Friday.
Word quickly spread through social media. Passionate Equinox/SoulCycle members, including celebrities Chrissy Tiegen and Billy Eichner, called for a boycott of the companies. Many revoked their memberships.
everyone who cancels their equinox and soul cycle memberships, meet me at the library. bring weights

— christine teigen (@chrissyteigen) August 7, 2019
Hey @Equinox - what's your policy for canceling memberships once a member finds out your owner is enabling racism and mass murder?

— billy eichner (@billyeichner) August 7, 2019
On Wednesday, Ross replied with a statement, defending his rights to host the fundraiser.
"I have always been an active participant in the democratic process," Ross said. "I have known Donald Trump for 40 years, and while we agree on some issues, we strongly disagree on many others and I have never been bashful about expressing my opinions."
Equinox and SoulCycle also released a statement, iterating that "no company profits are used to fund politicians," as well as their autonomy when it comes to their brand purpose.
"We are committed to all our members and the communities we live in," the statement read. "We believe in tolerance and equality, and will always stay true to those values. Mr. Ross is a passive investor and is not involved in the management of either business."
Regardless of the response, has the damage already been done? How can a brand handle a response to the outlying activities of its investors?
Be Prepared
We live in an era with unparalleled access to information. Anyone can search for a name for a background check on a person's work, family or interests. Every company should continue to vet investors and senior management on an annual basis, especially during sensitive political times.
This is not to say that investors and employees should not be able to express and adhere to their own views and rights. Rather, companies must prepare for a potential values-centered crisis situation in advance, and be ready to respond should any outings of bias develop.
Brand Messaging Alignment
Consumers have become extremely comfortable, and more engaged, when brands are issues-oriented. Companies like Patagonia continually advocate for environmental sustainability and employee satisfaction, starting with their own products. Dove promotes positive self-esteem and women's empowerment. Ben & Jerry's releases flavors like I Dough, I Dough to support marriage equality.
Equinox widely welcomes the LGBTQ community, and hosted a month-long campaign in June, #poweredbypride. However, critics find conflict in a brand representative supporting a political candidate whose actions haven't matched with such issues. The support of specific candidates implies a disconnect with the purposeful message, and consumers take that seriously.
Strength of Response
Melanie Whalen, the CEO of SoulCycle issued a statement reiterating the beliefs of the company, in a play to reassure members. The timing and transparency of the reply hit the mark, but is it enough for members as the investor continues to have a place on the board?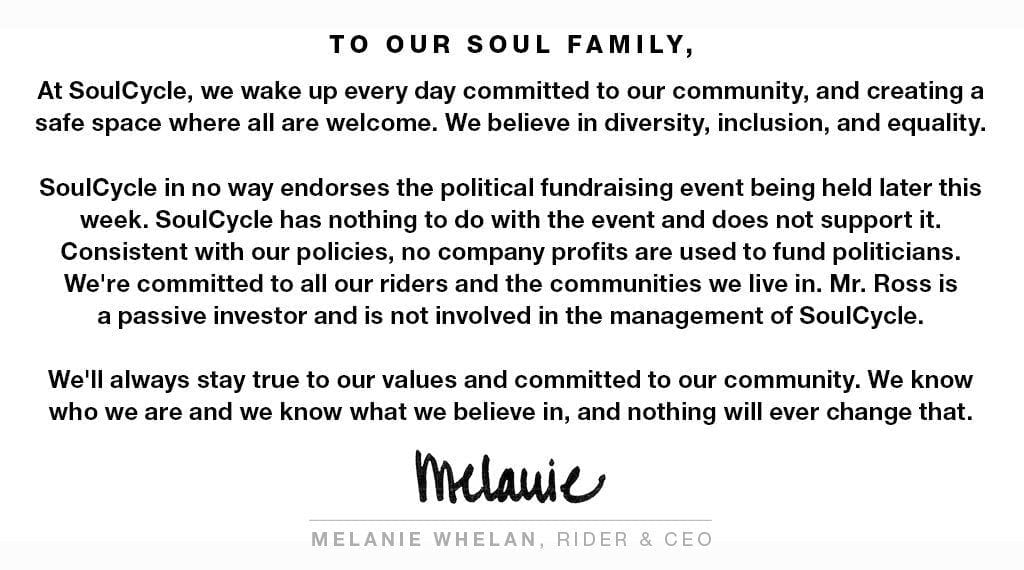 Equinox echoed the sentiment, by posting a reply on Instagram.
View this post on Instagram
So long as Ross continues to hold his place in the fitness brands' organization, the impact this crisis will have on business remains to be seen. The strength of response will truly be measured by how many members will continue on with the clubs.