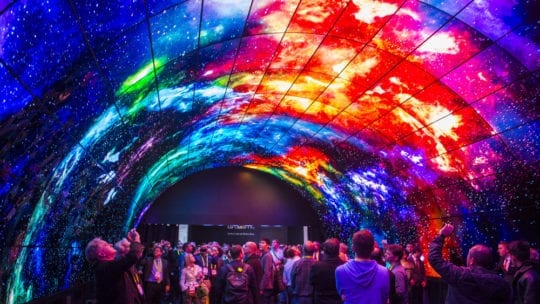 The annual tech-laden mosh pit known as CES begins at the Las Vegas Convention Center today. CES used to stand for the Consumer Electronics Show; just like KFC formerly stood for Kentucky Fried Chicken. Now, officially, it's CES. Most communicators-at least those outside the tech sector-used to dismiss the country's largest trade show, assuming it was a gadget fest for consumers. Perhaps it was.
The new reality is different. There still will be lots of cool gadgets at CES. And while the gadgets on display are aimed at consumers mainly, the technology inside them often is applied to business solutions at some point. More important, the new reality–where every device, vehicle and person will be interconnected–is blurring the distinction between office, home and car. Communicators need to realize that this sort of integration means their messages could reach millions of people, says Andrew Cross, VP/partner at Walker Sands.
Trends
Another item of importance for communicators is that CES is a prime spot for trend spotting. Keynotes at CES often set the year's tech agenda. "I'm especially interested to hear what" IBM chief Ginni Rometty "says about trust, AI and quantum computing," says Travis Bullard, a director at APCO Worldwide.  Adds Cross, trust and "security will be part of every CES announcement...[they] will be an undertone throughout" the show.
Other keynotes to watch, Bullard says, include Verizon CEO Hans Vestberg (5G) (Jan. 8, 7pm ET) and AMD's president/CEO Dr. Lisa Su (next-gen computing) (Jan. 9, 12pm ET).
Says Rowan Benecke, chief growth officer at Ruder Finn, this CES will be the first where "we'll see three macro-technology trends come together in a meaningful way." The first macro-trend, he says, will be the shift from cloud to edge computing. Related to that will be the "real emergence of AI," which will allow "breakthrough" experiences for those using AI-enabled devices and services. The last trend will be the debut of 5G. "2019 will be the year of 5G," particularly in the U.S., Benecke says.
The hope is these trends will allow for a new generation of products and services. For PR pros this means creating "highly personalized experiences and services for consumers," he says. Examples could include the integrated smart home and a move away from the screen to voice-enabled AI and search.
A Communications Case Study
In a sense, CES is a case study for brand communicators. "I find myself less interested in specific new products and more excited to see how brands manage to emit a memorable signal and stand out amidst all the noise of CES," Bullard of APCO says.
True, with 24 product categories and 4,500 exhibitors drawing about 180,000 people, including 6,500 media, it's difficult to stand out. "Companies," Bullard says, "must be especially clever in how they play the game, from working the pre-show rumor mill, to stage-managing their presence at the show, to working with media and influencers to get their messages heard." Of course, it doesn't hurt to have terrific products and stories to tell.
Investments
With the new year, communicators and marketers consider their tech investments. Michael Lamp, SVP, social and digital media, at Hunter PR, looks for technologies that "can solve human problems" and "help us tell better stories." That's why he touts marketers investing in AR and VR in 2019. These technologies can help communicators and marketers "break down distances...and deliver experiences to consumers" who are unable visit brand-endorsed venues in person. A virtual tour through a museum is an example, he says.
For Cross of Walker Sands, the emergence of 5G, with its tremendous download speed, means video will remain strong. He's also upbeat on 5G's ability to influence podcasting. "Even though podcasting is exploding, we're only at the start of the growth" of its owned content potential, he says.
Bell social media manager David Wolpert sees great potential in AI, particularly for "the first PR agency that responsibly targets" using AI. "It will be a game changer."
Another area for communicators to consider is wearable technology, he says. For example, the potential for communicators targeting Apple watches seems very strong.
On a more prosaic level, Wolpert urges PR pros to invest in enhanced graphics and technology that offers faster and better ways to communicate, such as peer-to-peer video messaging.
Seth Arenstein is editor of PR News. Follow Seth: @skarenstein 
NOTE: A version of this article appeared originally in PR News, January 4, 2019. For subscription information, please visit: http://www.prnewsonline.com/about/info