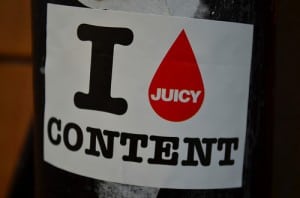 Brands of all stripes ignore content marketing at their own peril. As more and more media budgets shift from ad schedules to demand for content marketing and native advertising, companies need to have a legitimate strategy in place.
The strategy can't be half-baked, but integral to how your company gets its messages out and communicates with stakeholders. Still, a lot of PR pros are looking for guidance on how to cultivate their content marketing.
In an excerpt from PR News' Digital PR Guidebook, C.C. Chapman, author of "Content Rules" (link), offers five tips that communicators need to know to grow their content marketing business.
1. Develop a strategy: "Give me six hours to chop down a tree and I will
spend the first four hours sharpening the ax."—Abraham Lincoln. "People want to just jump right in and start with their handful of ideas and expect results right away, but it's crucial to take the time to develop a strategy," Chapman said. "Why are we doing this? Are we doing this for the right reason? What is our budget? How can we make content creation sustainable?"
2. Get your house in order: Every social network is simply rented land; you don't own it, Chapman said. Get your house (website) in order by downloading or buying an intuitive content management system (CMS) that enables you to post content on a regular basis. "Make sure you can update it and publish, not the flaky tech intern or the IT guy who seems to work in an undisclosed closet location," Chapman said.
3. You also must establish a social-media presence, especially on Facebook: "Even if you only use social platforms to drive traffic to your website, that's a start," Chapman said. "You can at least use them as beachheads, to send customers to your site to up-sell them and have them buy products."
4. Develop an editorial calendar: Applications and interfaces like Google Docs and Google Calendar are especially useful for team collaboration, according to Chapman. "Start with the next month and go from there—figure out your next seasonal sale period (or find your business' equivalent) and lay out whatever that time frame is and figure out what you can do content wise," Chapman said.
5. Think visually: "It kills me that it took something like Pinterest to make everyone realize we need pictures," Chapman said. "Words are great, but pictures are even better." Remember that when you share any piece of content on a social network (aside from Twitter) it's going to pull a picture from the content and show it as a preview. Chapman also warned against using a lack of technology and money as an excuse.
Learn more about content-marketing trends at PR News' Next Practices PR Conference, which takes place Aug. 6 at the Westin San Francisco.
Follow Matthew Schwartz: @mpsjourno1