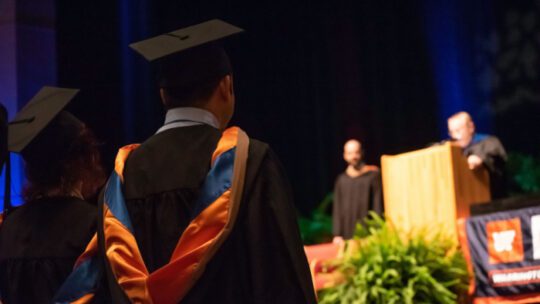 The impact of a commencement speech can range from taking the world by storm as thought-provoking, entertaining, or memorable due to the speaker's words or actions to the speech simply being unmemorable and just a part of going through the motions to get that degree.
As you're reading this, take a moment to reflect on what you remember about a commencement speech you've witnessed.
To honor the achievements and recognize the journeys students have taken to get to their graduation day, colleges and universities owe it to the students and their families to be intentional about doing all they can to meet the moment for this big day.
As many universities and colleges begin their search for the best messenger to deliver this address up to a year in advance, institutions should keep top of mind the importance of having a thought partner ready to support the chosen speaker. Sometimes that thought partner might be an in-house speechwriter or communications professional. Still, we all know it can make all the difference to have additional help that works in the space during such a busy period.
While most speechwriters are speechwriters before we would ever claim the title, if you're the resident PR professional in your community and get called on to provide advice for developing remarks for a commencement speech, here are some quick tips and best practices that can streamline the process.
Know Your Audience
Whether you are speaking to a military college or a liberal arts university, the matters of the world are going to be what matters to the graduates as they battle these real-life challenges and live through unprecedented moments in time while pursuing an education. Look for instances and examples that impact the campus community and wed them into the speech. Hold a comprehensive discovery process before drafting the remarks to understand your audience's needs, the speaker's goals, and the institution's optimal outcomes.
Embrace Storytelling
When asked to write a commencement speech, the presenter may or may not be an alumni or an associate of the institution. While this connection certainly helps when writing, regardless, you want to speak to the audience in a way that conveys information without coming across as lecturing. Throughout the drafting and editing process, maintain a high story-to-advice ratio to be sure you offer substantive advice to go along with authentic stories.
Be Mindful of the Time
Graduate commencement ceremonies are significant milestones in the lives of scholars who have dedicated years to rigorous academic pursuits. These events symbolize the culmination of countless hours of hard work, perseverance and personal growth. Nothing is worse than separating a proud family from their new graduate because of a lengthy commencement speech that had no sign of an end because the speaker got to talking!
As you intentionally work with the principal to craft, communicate and execute the best practices above, the address can serve as a powerful motivator for future generations and an even more meaningful memory for the families and communities who beam with pride in this impactful moment. Part of the journey is the end — let's make sure it also lays the foundation for a new beginning.
Michael Franklin is the Founder and Chief Thought Leadership Officer of Words Normalize Behavior and the Executive Director of Speechwriters of Color.