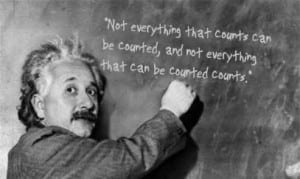 Planning PR campaigns is only half the battle. You also need to prove that your communications efforts have made a difference. Measuring ROI can be one of the most complex issues PR professionals face, especially when you throw social media metrics into the mix. At PR News' Measurement Conference in Washington, D.C. earlier this month Jackie Malloy, research strategist for GM Communications, gave attendees a crash course on metrics during a presentation titled, "Starting on the Same Page: What You Must Know Now About PR Measurement."
Pulling up a slide full of ROI definitions and equations, Malloy said:
"Here's the definition for ROI. It's not important to read it all, as it is a bunch of accounting gobbledygook," Malloy said. "That is because it is an accounting measure. I am responsible for research and measurement for GM Communications. While there are a lot of PR measures that I track, I also know that ROI is not a measure I can do. Why? Because it is impossible for me to link every GM sale to what it was that influenced a person to ultimately purchase a vehicle."
Here are some PR measurement tools that Malloy said she finds more valuable:
Benchmarks: In order to know if you've "moved the needle," as Malloy put it, you need to know where you started. Benchmarks do just that: "They help you answer where your brand lives right now—strengths, weaknesses, opportunities, and threats," Malloy said.
Barcelona Principles: Designed by a team of Spanish PR professionals [Correction: The principles were created by multinational PR professionals under the guidance of the International Association for the Measurement of Communications (AMEC)] the Barcelona Principles are specifically designed for communications experts. Look them up, print them out and have them handy when evaluating campaign metrics, Malloy added.
Malloy also stressed that PR measurement is rarely a linear equation. "It's a roadmap," she said. "Numbers tell you 'how much' but not necessarily, 'So what?'"
Follow Lucia Davis: @LKCDavis