It takes more than a stellar client portfolio to achieve respect when it comes to leadership. Becoming a top CEO in PR requires not only a knack for business and crisis management, but it also calls for an ability to inspire creativity and grow influential careers. Staff and clients appreciate the most respected CEOs for providing an encouraging, flexible and open work culture. 
Glassdoor's Top CEOs of 2019 list  inspired us to look at CEOs of the world's largest PR agencies. Using PRovoke's 2019 Agency Rankings (top chart), which is based on 2018 revenue, as well as Glassdoor's CEO approval ratings, we came up with our list of dynamic communications leaders. 
Several agencies changed CEOs at the end of 2019, and some have not yet been replaced in 2020. This might have influenced their Glassdoor ratings. In our write-ups (below), CEOs are mentioned in alphabetical order. In the second chart you can find CEOs' Glassdoor approval ratings, as well as the number of reviews submitted.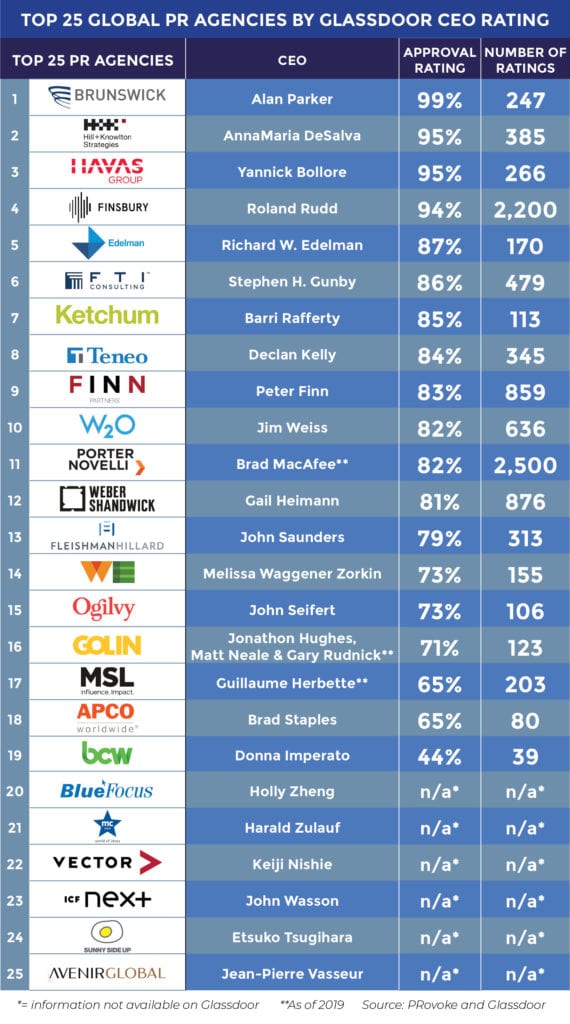 The CEO approval rating from Glassdoor.com is a subjective collection of reviews from current and past employees of a company.
In addition to rating CEOs, Glassdoor rates  companies. Ratings of CEOs and companies can fluctuate due to mergers or acquisitions, as well as changes in leadership and benefits. 
"Our Community Guidelines state that users can share their personal opinion and experience with their current or former employer," a Glassdoor rep says.
"We require users to certify their employee relationships to companies when posting" content. In another effort to curate accurate reviews, Glassdoor also requires email verification from a permanent, active email address, or a valid social networking account.
Glassdoor's research team tells us the average CEO approval rating across all industries it rates sits at 73 percent. A total of 15 of the CEOs in our list of 25 scored 73 percent and higher. Women are 7 of the top 25 agencies' CEOs, and ratings were not available for 6 of the firms. 
Read on to learn more about our top 25 PR CEOs.
Yannick Bolloré, Havas Group, 95% approval
Bolloré oversees 20,000+ employees in more than 100 countries, a daunting task. His background in creative production helped launch and develop Havas' media division, as well as inspire a path of innovation and growth. He has pledged to have women fill 50-60 percent of senior leadership roles by 2023. 
AnnaMaria DeSalva, Hill+Knowlton Strategies, 95% approval
DeSalva returned to Hill+Knowlton in 2019 after a storied career at DuPont and Pfizer. She oversaw global healthcare at H+K from 2006 to 2009. Now she manages 2,000+ employees in 80 offices worldwide. Owing to her experience at the firm, DeSalva brings a knowledge to the role.  
Richard W. Edelman, Edelman, 87% approval 
Edelman sets the gold-standard for PR agencies. CEO Richard Edelman created the Edelman Trust Barometer, becoming one of the highest authorities on public trust and perception of business, government, media and NGOs. The CEO's experience inspires 5,000 employees, securing him a spot in the Arthur W. Page Society's Hall of Fame. 
Peter Finn, Finn Partners, 83% approval
Peter Finn launched Finn Partners in 2011, after a 27-year run at Ruder Finn, and the company continues to grow quickly. Finn Partners now includes 18 offices worldwide and 700+ employees. Employee reviews on Glassdoor find Finn to be "a rare leader" who works at a high level, but also pays attention to the needs of young employees. "Encouraging and curious, [he] asks questions to learn and never to belittle," one reviewer writes. 
Stephen H. Gunby, FTI Consulting, 86% approval
A graduate of Yale Law School, Gunby believes in a fair and purposeful management philosophy. "Changing the trajectory of a company requires major insight," Gunby says. "But it's also about getting enormous numbers of people helping you figure out the right change and then being committed to drive that to fruition."
Gail Heimann, Weber Shandwick, 81% approval
Heimann encourages an entrepreneurial spirit. "Innovation happens when catalysts—courageous thinkers, brave and loud voices, relentless challengers of the norm—get the leeway and authority to drive change," she says. 
**Guillaume Herbette, MSL, 65% approval  
Herbette left MSL in December 2019. The company has yet to fill the global CEO position. Instead, MSL houses a 12-member global senior leadership team with CEOs in South Korea, USA, India, Italy, Germany, Poland, France (two), Brazil, Canada, Australia and the UAE.
**Johnathon Hughes, Matt Neale, Gary Rudnick, Golin, 71% approval
In December 2019, Hughes left the agency, and Neale took on the role of sole CEO, while Rudnick moved to president and COO. It should be an interesting transition for the company, whose employees enjoy flexible scheduling, regular CEO office visits, and apply the "Go All In" motto to everything. 
Donna Imperato, BCW, 44% approval
The merger of Cohn & Wolfe and Burson-Marsteller resulted in BCW in 2018, and the firm still seems to be adjusting. BCW employees say they feel proud to work and learn from senior staff. Before the merger, Imperato served as CEO at Cohn & Wolfe for 15 years, leading the agency from a respected boutique establishment to double-digit international growth between 2014 and 2018. 
Declan Kelly, Teneo, 84% approval
Kelly founded Teneo in 2011, tapping his contacts, including former President Bill Clinton and UK Prime Minister Tony Blair. Kelly's connections have resulted in Teneo becoming a respected authority on issues related to CEOs and senior executives. 
**Brad MacAfee, Porter Novelli, 82% approval 
MacAfee left Porter Novelli after four years as CEO, in December 2019. Known as an advocate for diversity and inclusion, he made the topic an urgent priority at the agency.  "Working at Porter Novelli and serving as CEO for nearly four years has been a true honor and an adventure of a lifetime," he said in a statement. 
Alan Parker, Brunswick, 99% approval 
Parker founded Brunswick in 1987, and maintains an active role as a senior consultant with many of the firm's accounts and projects. Known as the "godfather" of reputation management, Brunswick works with companies like Thomson Reuters, Burberry and Time Warner. Parker was knighted in 2014 for services to business, charitable giving and philanthropy. 
Barri Rafferty, Ketchum, 85% approval
Employees at Ketchum see Rafferty as an "energized CEO" who visits offices frequently and "seems to really be trying to make a difference" at the company." To stay current, Rafferty frequently consults reverse mentors, young Ketchum employees who brief her on the latest technology and social media.
Roland Rudd, Finsbury, 94% approval
A former journalist, Rudd utilized his storytelling ability and network to launch Finsbury in 1994. Close to many leaders in the British government, including former Prime Minister Tony Blair, Rudd worked to become a respected global leader in corporate communications counsel. 
John Saunders, FleishmanHillard, 79% approval
At FleishmanHillard since 1990, Saunders moved to the United States at 57 to lead this international company. The native of Dublin, Ireland is known for his ability to listen and for promoting women as well as his record on diversity and inclusion. 
John Seifert, Ogilvy, 73% approval
Seifert may be a college dropout, but he found a purpose at Ogilvy. It began with a poor academic record and summer internship, and led to finding a passionate job he's never wanted to leave. Seifert's foundation came as a young GM of the American Express account in Bangkok. He learned to hang back and listen instead of bulldozing clients with bravado and creativity. Seifert says that lesson helped him become CEO. 
Brad Staples, APCO Worldwide, 65% approval 
Staples leads more than 800 employees in 30 markets. The trilingual executive joined APCO in 1996, working for two decades to build business and international client service teams, as well as APCO's global antitrust and competition practice. Glassdoor reviewers found his leadership "inspiring" and "engaging," and appreciated a "culture guided by a set of refreshed values."
Melissa Waggener Zorkin, WE Communications, 73% approval
Employees on Glassdoor find Waggener Zorkin to be what a model CEO—open, progressive and accessible. She's very involved in employee happiness and makes herself available to all levels of staff—not just the top brass. In addition, she conducts herself as a genuine leader, providing as much transparency as possible. 
Jim Weiss, W20 Group, 82% approval
Weiss is known as a leader who brings energy and excitement to the C-suite, which influences the entire company. Employees appreciate W2O's celebration of diversity and inclusion, and feel cared for. They praise the leader's open-door policy, entrepreneurial spirit and extreme transparency.
**=CEO left/changed in 2019.