Muck Rack, a PR software company that allows practitioners to search for journalists, monitor news, and build reports, recently surveyed over 800 PR professionals of all levels, to take a pulse on the state of PR in 2019. The survey looked at how communicators are spending their time, their money, and what software they use.
Muck Rack will drill deeper into these results at PR NEWS' Digital Boot Camp: Using Google Tools For Communicators, taking place on July 17 at the Yale Club in New York City. Looking at the survey findings, it's easy to see why a base level of tech literacy is not only helpful, but necessary for PR pros— the results remind us that measuring success remains the number one challenge for the profession.
Imagine if your organization had a brand newsroom landing page that could monitor all engaged media outlets through its analytics. With a base level of Google Analytics knowledge, those reports could be easily searchable, or even automated, to consolidate your wins into one place. That's something no external digital team will be able to make sense of as well as a communicator.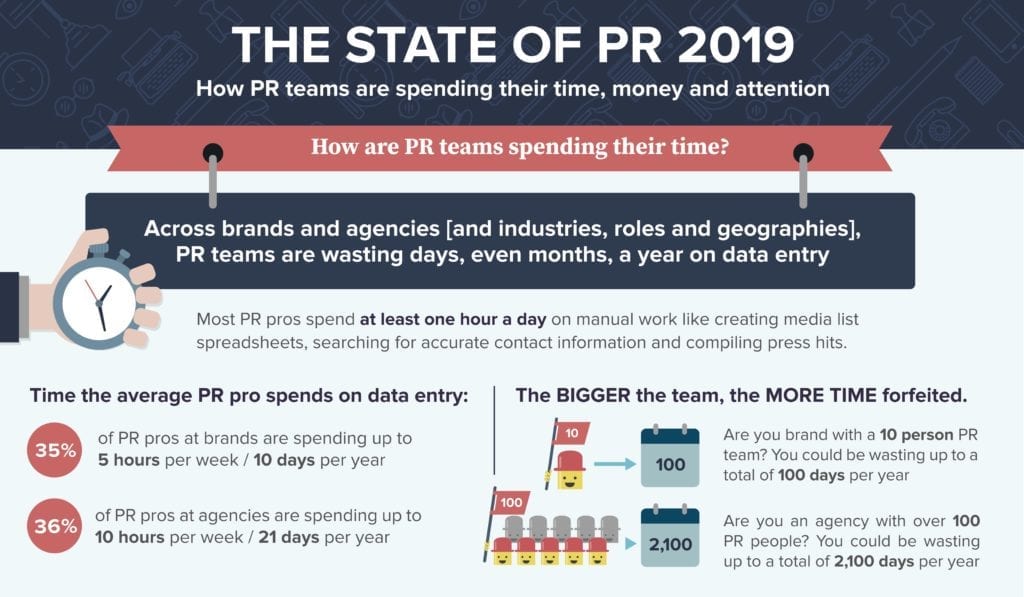 Muck Rack's survey also tells us that only one-third of PR pros surveyed used web analytics on the daily, while 53 percent actively monitor the news. No wonder measurement remains the number one priority— those surveyed understand how generating more media coverage is the best way to increase value inside organizations, and 68 percent see that coverage as crucial to showcase and measure. So why are so many analytics and measurement efforts outsourced to external agencies and firms?
A look at how PR teams are spending their money tells us this, too—the top expenses go to an outside agency, which makes sense when it comes to time spent. It may seem efficient to have someone else own your digital strategy, especially for those at smaller organizations and nonprofits. But when 61 percent of PR pros worry about tightening budgets in the future, one way to calm those fears is to save your limited resources and build a strong foundation for digital literacy within your own team.
Ultimately, these learnings are all connected—the PR pros surveyed by Muck Rack still have difficulty measuring success, are worried about tightening budgets, and only a minimal amount of them are analytics-savvy. The opportunity these disparities present is clear—don't silo tech literacy to a digital team, learn it yourself!
That's why PR News is hosting our annual Digital Boot Camp: Using Google Tools For Communicators in NYC again this year, and we're thrilled to have Muck Rack onboard as a partner. See you there!