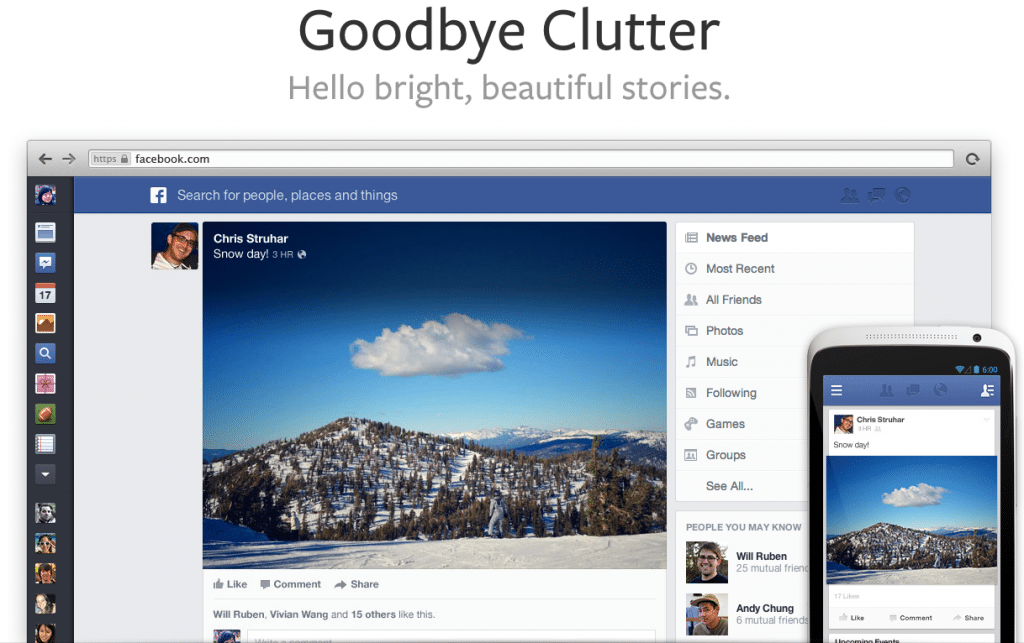 In its biggest overhaul since the introduction of Facebook Timeline in 2011, Facebook introduced a more visual and mobile-friendly version of its News Feed on Thursday.
During the press event, Facebook co-founder and CEO Mark Zuckerberg said, "How we're all sharing is changing and the News Feed needs to evolve with those changes. This is the evolving face of News Feed."
Zuckerberg said that pictures will show up bigger in the News Feed. For PR pros, visual content will take on an added importance in terms of popping off the page. However, according to The New York Times, the redesign does not change anything about EdgeRank, the filtering algorithm that Facebook uses to select what shows up on a user's News Feed.
The overhaul, which standardizes the feed across mobile devices and desktop computers, will allow users to drill down into topic-specific news feeds—one for music, another for photos, another for the publications, celebrities or brands they follow, according to The Times.
"If social media is an amplifier of messaging, mobile is an accelerator of that amplification," says Joy Hays, manager of digital and social media communications at Texas Instruments.
Hays, who will speak about Facebook KPI's at PR News' April 18 Big 3 Conference in New York, says the update is exciting for brand managers who have kept EdgeRank in mind. "For Texas Instruments, we have noticed that images have a major impact on our engagement rates and the changes in Facebook News Feed with larger images should actually help draw in more clicks," Hays says.
Despite the new spotlight on imagery, Hays says communicators must use multiple mediums to get people talking or to take actions. "If you were going to just post images there is Instagram or Pinterest, but Facebook allows for more (videos, links to articles, quizzes, polls) and it is important to take advantage of all the ways you can interact," Hays says.
Facebook said it will begin rolling out the changes to the Web version immediately, with mobile apps to follow.
Follow Bill Miltenberg: @bmiltenberg
To hear more from Facebook brand expert Joy Hays, register now for PR News April 18 Big 3 Conference in New York City.