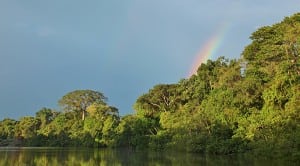 What's in a name? As PR managers and communicators know all too well, a great deal. The name of an organization has a tremendous impact on how people view that organization and whether they're inclined to do business with that entity. Company names tend to inform the perceptions among the public, investors and the media about an organization's mission, modus operandi and future plans. Often a time-consuming (and somewhat agonizing) exercise, communicators can ill-afford to take changing a name lightly. They first need to recognize the benefits of changing a name and then help to get the message out and make sure that their constituents are on board. Rainforest Trust, a conservation organization that has saved nearly eight million acres of rainforests across 20 tropical countries, was no exception.
In 2013 the Warrenton, Va.-based nonprofit was about to celebrate its 25th anniversary and wanted to grow and reach a new, younger audience of supporters.
While the process of changing its name from World Land Trust-US to Rainforest Trust started last year, the idea of the name change had been knocking around the nonprofit since 2010, according to Dr. Paul Salaman, CEO of Rainforest Trust.
The previous name made it "unclear to many people whether we were a global or U.S.-based organization and we wanted to clear that up," said Salaman, who by age 14 was managing a small nature reserve in London. "If people don't 'get' the name from the beginning it's a very slippery slope. Misperceptions about the name (and it's reflection on the organization) could persist and grow."
He added: "We're very lean as a nonprofit, which can be a problem because we want to maximize our dollars needed for international conservation. We were concerned about the cost because a rebranding is not just about a new logo or new website."
THE GOALS
Fortunately, PR agency RF|Binder agreed to assist with the PR campaign on a pro bono basis. Starting in early 2013 the agency worked closely with Rainforest Trust on executing the name change, holding focus groups, sending out communiqués sampling new names for the organization and finding out which names were available.
RF|Binder conducted several consumer surveys designed to validate both the names that were being considered for the rebranding as well as some of the language that would be used to promote the organization.
Throughout the first half of the year there were a series of board meetings focusing on the new name (Salaman mentioned that several board members needed convincing, so the pitch had to be clear and concise).
The name change was approved in July 2013. Rainforest Trust and the PR team at RF | Binder quickly followed up with a comprehensive effort designed to get the word out.
The PR agency took the reins to help promote the change, drive awareness and reintroduce the nonprofit to the donor community.
More specifically, the goals of the campaign included:
• Boosting the nonprofit's appeal to the public and donors and making sure both constituencies understand the organization's mission.
• Celebrating the nonprofit's 25th anniversary with an eye on the conservation challenges for the future.
FOCUS ON EDUCATION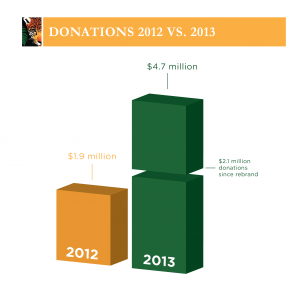 "We viewed the media outreach not necessarily as a way to get media coverage but more so to build relationships with the media for the future and educate the media about the organization" said Megan McMonagle, a manager at RF|Binder.
The agency was instrumental in getting Dr. Salaman in front of staff reporters at National Geographic and Time as well as a freelance contributor to The Washington Post who writes about the environment. The interviews, McMonagle added, were designed to educate the media about the brand.
Following the interview with the freelancer, the Post earlier this year ran a story about Rainforest Trust's ongoing efforts to save the endangered golden poison frog, which, while toxic, may possess properties for medical research.
Social media, of course, also played a significant role in the PR campaign, particularly in the nonprofit's efforts to increase its appeal among younger people.
Although limited by a small budget—less than 5% of total expenditures—RF|Binder advised Rainforest Trust to purchase some low-cost ad buys, via Facebook and Twitter, to spread the message to a social media savvy audience.
The ad buys were augmented by content related to the name change as well as information about the nonprofit's largest project yet: An effort to protect 5.9 million acres of the Peruvian rainforest.
Rainforest Trust also ran an online contest on its Facebook page asking people to name the nonprofit's new mascot, a jaguar (the winning name: Rima).
The PR effort included a major facelift of the nonprofit's website. The homepage, for instance, was redesigned to include a letter from Dr. Salaman explaining the nonprofit's various efforts as well as a list of questions and answers educating readers on the nonprofit's core mission.
"We needed to make people understand that, although we have a new name, we have the same mission, and needed to allay any fears among existing donors and give new donors a reason to donate to the cause," Dr. Salaman said.
The campaign was rounded off by email and direct mail campaigns plugging the name change and sending a press release to relevant newswires, environmental-related websites and bloggers covering conservation.
Ranforest Trust also has been quick to harness environmental-related events, such as Earth Day (in April) and World Environment Day (in June), to educate donors and prospects about the nonprofit's core mission.
THE RESULTS
The various communications efforts have provided solid returns for the nonprofit:
• From 2012 through 2013, Rainforest Trust's donations more than doubled to an all-time high of nearly $4.6 million.
• The donor base grew by 57% in 2013 and, among fist-time donors, 70% contributed after the name change.
• Rainforest Trust raised nearly $1.5 million with its U.K.-based partner, World Land Trust, to fund a reserve in Borneo to protect orangutan and pygmy elephant habitats.
On the social media front, Facebook likes for the nonprofit have risen to more than 20,800, from 1,200, while Twitter followers have increased to more than 3,800, from 270, a fairly decent springboard for Rainforest Trust's efforts to widen its appeal among younger people.
"We're determined to change the organization and build on our efforts," Dr. Salaman said.
5 PR Tips for Rebranding a Nonprofit Organization
Deciding to rebrand your organization can seem like a daunting task, especially on a limited, nonprofit budget. However, with the proper preparation, rebranding can be a smooth process. Here are a few tips we learned along the way:
1. Focus on your mission. Our old name was easy to forget and prone to confusion. When considering a new name, make sure it accurately reflects your mission. If someone is choosing between two unknown nonprofits, they'll donate to the one with the name that best explains where their money is going and for what purpose.
2. Get the backing of your board. Another crucial aspect of the process was getting our board of directors to approve the decision to change our name. Schedule a board meeting devoted solely to discussing the rebrand and coming to a majority approval.
3. Poll current and potential donors. Before we started the rebranding process, we already had a new name in mind: Rainforest Trust. But before we could make it official, we needed to make sure that our hunch about the new name was correct. We surveyed our current donors, as well as a random sample of potential donors, for their opinion of the best name.
4. Crowdsource your logo. An inexpensive way to get new design ideas for your logo and branding is to use a crowdsourcing tool. This way you'll have multiple designs to choose from and it also gives designers the opportunity to get involved in a cause they care about.
5. Get your name out there. Once we had officially changed our name, it was time to introduce it to the world. We spent the next few months ramping up our presence on social media and reaching out to the media to introduce Rainforest Trust. Tying the rebranding to another announcement can also help increase buzz. Taking advantage of these avenues are two practically cost-free ways to increase awareness for your organization.
This sidebar was written by Dr. Paul Salaman, CEO of Rainforest Trust.
CONTACT:
Megan McMonagle, megan.mcmonagle@rfbinder.com; Paul Salaman, paul@rainforesttrust.org.
This article originally appeared in the July 28, 2014 issue of PR News. Read more subscriber-only content by becoming a PR News subscriber today.