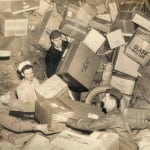 UPS and FedEx and are scrambling to catch up with a flood of holiday gift shipments that left many families across the U.S. short a few gifts under the tree. The companies are being framed as Grinches who have left boys and girls without presents to open Christmas morning but, in all fairness, the crisis may not have been entirely of their own making.
This year's holiday shopping season was six days shorter than usual because Thanksgiving came late. Bad weather in several regions slowed deliveries by air and ground. Plus, consumers began their holiday shopping later, emboldened by the promises of online retailers for last-minute delivery. The National Retail Federation points out that over 30 million consumers did not start shopping until after Dec. 9. The high volume of packages that came late in the season exceeded the capacity of shipping networks.
All this doesn't let the big shippers off the hook, and they are acting on some key elements of crisis management to set things straight. Amazon has promised gift cards and shipping refunds for customers who did not receive their shipments by Christmas. UPS is also offering refunds on shipping, and FedEx says it will work with complaints on a case-by-case basis.
The actions that UPS and Amazon are taking are crucial to maintaining the integrity of their brands. Here are some relevant crisis management tips courtesy of Michelle Pitman and Mona Delia of JCPR:
Be honest. Organizations must be willing to admit to what they don't know, detail how they are getting their information and be forthcoming with the facts.
Be humble. No organization is infallible. Admitting to mistakes and errors can go a long way in restoring trust with the public.
Focus on stakeholder interest. Communicate how the organization is working to address the crisis situation. Focusing on the public's reactions and addressing their concerns.
Reinforce your brand. As long as the crisis does not directly counteract your organization's key messages, rely on them to help protect your brand. If you've built a legacy of trust, now is the time to use this credibility to weather the storm.
For more tips on crisis management, order a copy of PR News' Crisis Management Guidebook.
Follow Richard Brownell: @RickBrownell