Travel holds a special place in the lives of many Americans. Whether escaping from the everyday to find relaxation on a beach, exploring new cultures, visiting loved ones or even traveling for business, we as a society embrace the freedom to travel.
The travel industry has taken a tremendous hit with the onslaught of COVID-19. Even with some states and businesses beginning to reopen, many Americans have lost their disposable income. The fear of viral spread remains on everyone's mind. 
Longwoods International, a market research firm for the travel industry, released a study this week regarding American travelers and the coronavirus pandemic. According to the study, 82% have changed travel plans for the next six months because of coronavirus. Fifty percent of that group said they would cancel some trips, and 45% said they will reduce travel in the next six months. 
"We've clearly reached an inflection point in traveler sentiment surrounding the COVID-19 crisis," Amir Eylon, president and CEO of Longwoods International, said in a statement. "All of those who can be impacted have been, and those who have been impacted will continue to be so until the country begins to open up on a wide-scale manner."
Because of these numbers, communicators in the travel industry reassessed their messaging to address customer concerns and provide assurance. While uncertainty looms around this new normal, brands look to guide customers with a steady hand for any future travel needs. 
Hotels, Airbnb Reassure Guests
On April 27, Hilton announced a new partnership with RB, makers of Lysol, and Mayo Clinic to launch Hilton CleanStay. CleanStay will "deliver an industry-defining standard of cleanliness and disinfection in Hilton properties around the world," according to the press release.
The program, developed with experts from Mayo Clinic's Infection Prevention and Control team, will utilize Lysol protection to enhance Hilton's cleaning and disinfection protocols. The release includes an infographic featuring the top-10 high touch areas in a hotel room that the program will focus on disinfecting.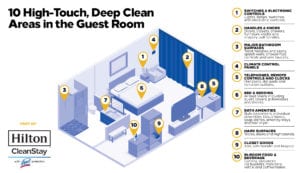 Marriott and Airbnb announced similar plans this week. Marriott enlisted experts in food microbiology, tourism and infectious disease, among others, to create a Global Cleanliness Council. Airbnb also brought on a former U.S. surgeon general, Dr. Vivek Murthy, to help develop new cleaning protocols for hosts, including a learning certification program. It now also requires a 24-hour waiting period between guests for full disinfection. If they need more time, hosts can use a new feature called Booking Buffer, to automatically block reservations for 72 hours.
Recruiting trusted experts who can display scientific facts regarding the cleaning process will always sit well with a consumer. Look at the popularity of Dr. Anthony Fauci. Delivering these new processes to guests can help them feel more at ease and assure them that a company cares about their customers' well-being. 
"Our first priority has always been the safety of our guests and Team Members," said Christopher J. Nassetta, Hilton president and CEO. "Hilton CleanStay builds on the best practices and protocols we've developed over the last several months, allowing our guests to rest easy with us...while protecting our Team Members who are on the front lines of hospitality."
Airlines Announce New Safety Protocols
JetBlue, known for excellent customer service and one of the first airlines to ensure passengers any canceled flights would not be penalized with rescheduling fees, took the lead in announcing another new normal: the requirement of all passengers to wear face masks during travel. 
The airline already requires all crew members to wear protective face coverings. American and United Airlines currently also require all flight attendants to wear masks. JetBlue "modeled its policy on the Centers for Disease Control (CDC) guidelines that indicate all individuals should wear a face covering in public to help slow the spread of the coronavirus," according to the press release.
"Wearing a face covering isn't about protecting yourself; it's about protecting those around you," said Joanna Geraghty, president and chief operating officer, JetBlue in a statement. "This is the new flying etiquette. Onboard, cabin air is well circulated and cleaned through filters every few minutes, but this is a shared space where we have to be considerate of others."
JetBlue's actions propel not only an interest in customer safety, but empowers travelers to look out for each other, regarding the actions they take. 
Agencies Pivot to Promote Client Programs
It's been a whirlwind for Sara Joseph, senior vice president at BerlinRosen, whose clients include the Boston Seaport, Waldorf Astoria New York and Singapore Airlines, among other travel and lifestyle providers, in the weeks since the COVID-19 pandemic began.
Instead of the typical, "here's why you should visit here/stay here" messaging, brands are focusing on spreading the word about programs designed to help others. Joseph's client Wythe Hotel, in New York City's trendy Williamsburg neighborhood, housed and fed doctors, working directly with Woodhull Hospital and NYU. The hotel also partnered with HOKA sneakers to keep doctors comfortable on the job.
Another messaging strategy includes engaging with consumers within their own homes. Waldorf Astoria New York shared its famous Waldorf Salad recipe with The Washington Post, so fans could make it while working from home. 
"PR has been a resource leading people to information about policies, or how they can still engage with brands online from home," said Joseph. "Right now, most brands are planning for recovery and the programs they are putting in place to restore confidence in health and safety."
Joseph, who has also worked through 9/11, Hurricane Sandy, Zika and SARS, remains positive regarding the resiliency of the travel industry. 
"I've found that the travel industry bands together to adapt and recover. No two situations are ever the same, but being transparent to educate people about the facts and accurate information is always a win."