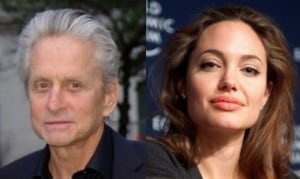 In the past two weeks, two A-list celebrities have made headlines with their revelations about the second most common killer in the U.S.: Cancer. On May 14, The New York Times published "My Medical Choice," an Op-Ed penned by Angelina Jolie about her decision to have a preventive double mastectomy. This past Sunday, June 2, during an interview with The Guardian about his latest movie, "Behind the Candelabra," Michael Douglas stated that his throat cancer was caused by the transfer of HPV during oral sex. Here's the full quote:
"Because, without wanting to get too specific, this particular cancer is caused by HPV [human papillomavirus], which actually comes about from cunnilingus...From cunnilingus. I mean, I did worry if the stress caused by my son's incarceration didn't help trigger it. But yeah, it's a sexually transmitted disease that causes cancer. And if you have it, cunnilingus is also the best cure for it."
Right, I say. OK. So what he is suggesting is that it all evens out? "That's right," says Douglas. "It giveth and it taketh."
Well, then. Originally considered an off-the-cuff joke, it turns out that Douglas has a legitimate claim. From The New York Times: "Indeed, in recent years scientists have documented a steep rise in throat cancers caused by a strain of HPV that can be transmitted through oral sex. The virus, human papillomavirus Type 16, also causes many cases of cervical cancer in women."
Two world-famous celebrities, two disclosures, one serious disease: Who did it better?
We have to go with Angelina Jolie on this one, whose article not only shed light on medical options for women (albeit extremely expensive ones), but encouraged women to get screened for cancer and led to an honest discussion about the disease.
Douglas made an off-hand remark that immediately went viral, but more from the shock value of Douglas' discussing cunnilingus. Eventually, the Times brought the conversation back to cancer in said article, but Douglas had nothing to do with that.
The lesson for PR pros here comes down to media training. Douglas has been in the spotlight for pretty much his entire life—as has Jolie, for that matter; both have famous dads—so he had to have known how the media would pick up his comment and run with it. It's not like he did anything terrible, but he did miss an opportunity to use his celebrity to shed light an important issue—a task that Jolie completed to a tee.
Follow Lucia Davis: @LKCDavis