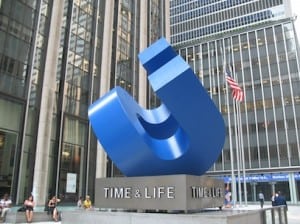 Early next year, Time Inc. is expected to unveil redesigned websites for its major titles Fortune, Time and Sports Illustrated, according to the New York Post. Coupled with recent news that Time Inc. newsroom staff now reports to business executives—not editors—the publishing giant looks to be moving towards a more advertiser-friendly model online, with a major focus on sponsored content.
Time Inc. isn't the only major publisher looking to expand its advertiser-centric content offerings, with The New York Times expected to launch its native advertising platform in the next few months as well.
As the trend towards advertiser-supported content continues, here are some suggestions for getting your own native platform off the ground correctly, compliments of Ethan Bauley, senior VP of  digital communications at Weber Shandwick.
Individual pieces of content (like a blog post, "byline," tweet, or other brand asset) often serve as the substance of a native advertisement. There are a number of simple and/or mature native platforms that are relatively simple to use and support common PR objectives.
Start small with one or two simple native advertising products that clearly align to your marketing or business goal—promoted posts, tweets or video, for example.
Execution can be achieved with relatively modest investments and can deliver meaningful results (even at the scale of a small, local business).
Look to partner with a colleague or agency that has executed these kinds of programs to help reduce risks and learn more quickly.
For larger organizations, collaboration with marketing organizations is often a requirement and will be more effective if there is a sound business case supporting the investment of media dollars.

As native advertising becomes all the rage, what would you add to the list?
Follow Brian Greene: @bwilliamgreene