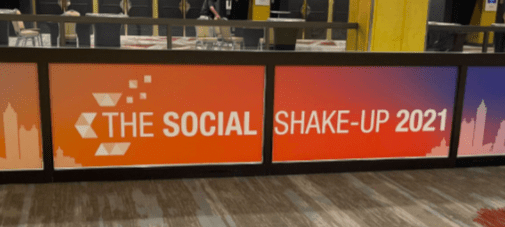 Social media strategies no longer exist in a vacuum. They are an essential part of every communication plan, and spread throughout organizations, from customer service to HR and even accounting and revenue.
As such, holistic approaches permeated the early sessions at The Social Shake-Up 2021 conference in Atlanta today (Sept. 22). Platforms, job expectations and strategic planning were woven into sessions covering executing social media campaigns and plans.
For example, the opening panel on emerging platforms emphasized the importance of due diligence before jumping on the next, new shiny platform.
"We never shoot from the hip" when considering emerging platforms, said Sarah Kitlas, WarnerMedia's senior director, social strategy & partnerships. She and her team are methodical even when an executive says to her, 'My kid is on X platform. Why aren't we?'
In response, Kitlas and her team research the platform and conduct social listening. Some of the things they examine: 'Do we need to be on this platform? Is our audience? Do we have the resources we need to create the necessary content?'
If, after this process, the brand decides to proceed with an emerging platform, Kitlas and her team prepare a 90-day launch strategy.
For Mikelle Street, director, social media and audience engagement, Pride Media, social listening is his top research method when considering joining a platform. While Street is enthusiastic about emerging platforms, he urged attendees, "Don't be afraid to push back if you don't think it's time" to adopt a new platform.
Still, one of Street's major considerations is resources. "I don't want to do a platform half-baked," he said. Without the resources to do good work on a platform, Street advocates not engaging with it.
Chaia Raibon, Lyft's senior social lead, said she constantly audits audiences on her company's platforms to see "if we're making our numbers and KPIs." She urged attendees to "lean on your social analysts to work with" the data.
And if the numbers are not there, social media managers shouldn't be timid about leaving a platform, Raibon said.
Kitlas concurred. "Don't be afraid to pivot…don't be afraid to break up with a platform," she said.
In addition, the panelists agreed that flexibility is a key attribute for social media managers. This is due to the steady beat of new platforms and, often, their short life. Working with social media platforms entails a lot of starting and stopping. Moreover, the major platforms, such as Facebook and Instagram, often copy the best features of emerging platforms. That's another reason social media work favors agility, the panelists agreed.
They summarized their approach to emerging platforms urging attendees as be patient, evaluate data carefully and listen to your audience.
As for future platforms, Kitlas anticipates audio being big. Street agreed, though "it depends on the pandemic." If the pandemic subsides, "people will want to get out and attend live events," he said. Raibon believes AI will be big in future platforms.

The Social Practitioner
During the next panel, "The Evolving Role of the Social Practitioner," speakers repeatedly mentioned collaboration and cross-training, particularly regarding content creation and management. They also discussed best practices when considering and avoiding employee burnout.
For example, Tomika DePriest, senior director of communications for Emory Campus Life, noted the importance of having many people trained to do the social media practitioner's basic duties.
"Cross-training is extremely important," DePriest said. "You cannot chain small teams to the office. Small teams need vacations. Small teams have sick kids. So, you need to prepare everyone for when someone needs to take a reprieve."
Rebecca Dorfman, PR and branded content director at Zumba Fitness, urged attendees to be honest and open about job functions. This helps avoid unrealistic expectations and resentments.
"Make sure everyone is aware of what you are doing and how you are doing it," Dorfman said. This will ensure your team won't make incorrect assumptions.
Falynne Finagan, Americas social media leader at EY, agreed on being transparent and pushing back when you feel overwhelmed.
"Be strong on what your priority is," Finagan said. "We cannot have 50 priorities."
For more, follow us on social at #SSU2021 for great takeaways Sept. 22 and 23. 
Seth Arenstein and Nicole Schuman contributed to this story.