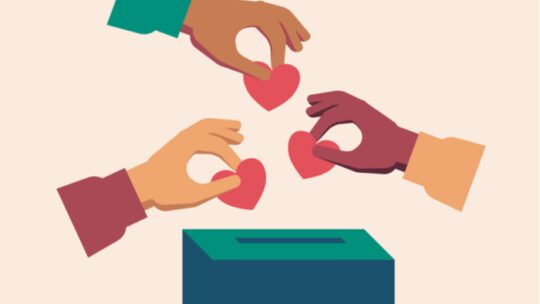 It's not a secret that employees are leaving jobs in droves during The Great Resignation. The reasons include burnout, poor corporate reputation, being asked to make moral compromises; the list goes on.
And more than half of employees (52 percent) say they would leave if company values don't align with their own. Moreover, 75 percent would not accept a new job that's misaligned with their beliefs, according to 2021 research from Blue Beyond Consulting and Future Workplace.
One way of aligning corporate values with employee interests is through CSR. Engaging in community service is good in itself, of course. Yet the examples below indicate how a mix of more traditional corporate efforts and employee-chosen initiatives can potentially slow The Great Resignation.
Below we look at examples of employee-driven CSR programs drawn from finalists in the PRNEWS Social Impact Awards.
Power to Employees
Houda Elyazgi, chief client officer at Saxum and a finalist in the Mentor of the Year category, leads the agency's Step Up program. The initiative offers free communication services to nonprofits. Candidate nonprofits are located in areas where Saxum's employees live and work. They're chosen based on alignment "with our team's passions and interests," she says.
Since 2009, Saxum has provided more than $1.2 million in pro bono services to  25+ organizations.
Similarly, Samuel Dean, CEO, TEAM LEWIS Foundation, says, employees "don't want to be told what they should care about; they want the freedom of choice."
In the case of TEAM LEWIS, the agency provides team members with $1,000 to donate to a local cause. In addition, it offers employees the option of  supporting causes with pro bono services.
"Our model… puts the power in the hands of every single person that makes up TEAM LEWIS," Dean says. "It enables everyone to make a real, genuine, tangible difference to their community."
Getting this sort of satisfaction through an employer gives staff "a deep and meaningful connection...and...a great sense of purpose in what they do," Elyazgi argues. They "often experience high job satisfaction and drive long-term success for the organizations they work for," she adds.
Employee Satisfaction
Riot Games, the video game developer whose social impact team is a finalist in the CSR Team of the Year category, enjoys a 94 percent employee satisfaction rating. Part of the credit goes to the organization's CSR effort, says Jeffrey Burrell, director of social impact.
"We want to ensure that we are leading by example for players when it comes to giving back to the community. We also want to make CSR a fun and engaging way for Rioters to connect with each other through causes they are passionate about," he says.
Through the Personal Karma program, Riot matches employee donations to local nonprofits. This past year, Riot matched more than $255,000 in donations to support 381 charities.
Begun in 2019, the Riot Social Impact Fund was created to address systemic issues through four main priorities: Education, Opportunity, Citizenship and Sustainability. Since its founding, Riot has donated more than $17 million in grants to organizations in 400+ nonprofits across 25 countries and regions.
"Through the fund, we are able to support almost any nonprofit in any country, a logistical challenge we wanted to solve as we were adamant about supporting causes that matter in the communities of all of our players" and employees, says Burrell.
One of the team's most successful internal fundraisers this year was its annual bake sale, which raised $36,000 for LA-based charity The People's Concern. The items were baked by staff, "and it gave Rioters a chance to bond with one another over their favorite treats and raise money for an incredible organization. The photos we shared on social media from the bake sale were some of our highest-performing content on LinkedIn," notes Burrell.
Another Rioter favorite fundraiser was selling candles to benefit the Ocean Conservancy. "These candles were made by two Rioters who wanted to use their candle-making hobby for good. Giving back to our community is not just a top priority for the company; it's a priority for our Rioters in their everyday lives," Burrell adds.
Year-Round Philanthropy
Biopharmaceutical company AbbVie is a finalist in the Community Affairs category. Its COVID-19 Philanthropic Response allowed employees with special skills to volunteer full-time to battle the pandemic. These volunteers, who helped with vaccine efforts, received full pay and benefits and were assured they could return to their job.
Near its Illinois headquarters, hundreds of AbbVie volunteers supported local vaccination efforts that administered more than 12,000 vaccines, says Claudia Carravetta, VP, corporate responsibility & global philanthropy.
Similar to the programs mentioned above, AbbVie's Employee Giving Campaign matched employee donations. Perhaps not coincidentally, the company has been on the PEOPLE "Companies that Care" list for three years, the FORTUNE "100 Best Companies to Work For" list for four years and the Great Place to Work "World's Best Workplaces" list for five years.