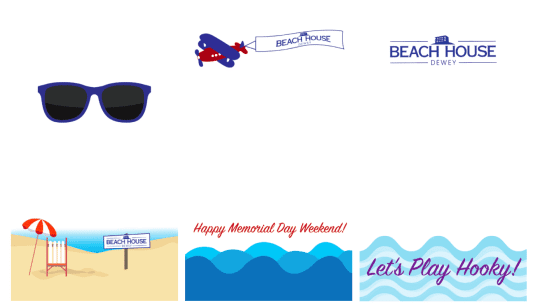 Many brands, agencies and nonprofits, no matter what their budget, have seen great results when incorporating On-Demand Geofilters into their marketing strategies. In the PR News Social Media Guidebook, Christine Wilson of MtoM Consulting provides readers a wealth of information about growing a Snapchat strategy and audience from tabula rasa. Here are her top tips to help you design effective Geofilters while maximizing your budget:
Put yourself in the users' shoes. What will they be excited to use on their Snaps and share with their friends? Think about where your potential customers spend their time. We created Geofilter campaigns for our Beach House Dewey client over Memorial Day and Fourth of July weekends. We set it for areas close to the hotel that had a good chance of reaching our target audience, including the beach and nearby restaurants and bars.
Plan around events, holidays and times of day when your audience is most likely to be active on Snapchat.
---
For more Snapchat advice from PwC, NexGenVest and more, register for the PR News webinar How to Develop a Snapchat Presence, March 28 at 1:30 p.m. Eastern. 
---
Choose your parameters wisely. The cost of a Geofilter depends on the size of the area you select and the amount of time it's active. Let's say you wanted to target bars on both sides of highway. Since people shouldn't be snapping and driving, don't highlight the whole area. Create two separate Geofilters for either side of the street, so you're not paying for the dead space in the middle. You can also create Geofilters for different chunks of time. Rather than a 12-hour stretch, create two Geofilters just for the peak hours you want.
Keep your design simple, non-invasive and appealing. Stick to the top and bottom of the frame. Don't go overboard on branding. Your users' content should remain the focus. For our Beach House Dewey Geofilter, we created a graphic with a sandcastle that users could put on their own beach photos. The logo was subtly placed on a flag flying on the castle. The exposure to the brand was fun, yet understated.
Contact Christine Wilson: Christine@mtomconsulting.com
Follow Ian: @ianwright