Snapchat Webinar
How to Develop a Snapchat Presence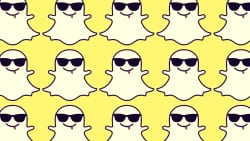 On-demand webinars are available for one year after the live webcast.
Join PR News on March 28 for a webinar that will bring you the secrets of the experts on one of today's biggest social media platforms. Snapchat, with the ephemeral nature of its here-today-gone-tomorrow content, can trick some communicators into thinking that the planning they put into each snap should be just as brief. But as our trainers will tell you, a detailed strategy can be the key to making your snaps burn bright before they fade away.
There are myriad brands seeing success on Snapchat, and nearly as many angles for approaching the platform. But each brand must find the style that's right for it, and then use that knowledge as a basis for consistent engagement with its audience over the long term. This webinar's experts will use examples and case studies to illustrate what success looks like and how you can achieve it.
What You'll Learn
How to determine what your purpose on the platform should be
How to create and manage an editorial calendar for a large or small brand
What frequency and cadence you should snap with
How to strategize and design paid geofilter campaigns that make the most of a small budget
How to be selective about what to share
How to set up an editorial board process to determine content
The various content models you may want to pattern your account after
Who Should Attend?
If you spend at least a quarter of your time in any of these areas, you should attend this webcast:
Community Relations
Corporate Communications
Corporate Social Responsibility
Crisis Management
Digital Communications
Media Relations
Philanthropy
PR Firms
Public Relations
Public Affairs
Research
Social Media
Register Now
Registration Fee: $399 per site - CDs available for purchase
For questions regarding this webinar, contact Jessica Placencia at jessica@accessintel.com; 301-354-1641.
If you are having any technical difficulties or need assistance meeting these requirements, please contact our Technical Support Center at 1-866-709-8255 or click here.
Each "Webinar Only" registration comes with access to the archived version of the program for one year, the materials provided by the speakers and a personalized certificate of completion for attending the Webinar. Should you wish to retain access to the training for more than one year, the CD is also available on its own or as a package with the online access.
PURCHASE NOW On-demand webinars are available for one year after the live webcast.
Questions
Webinar Questions
For questions regarding this webinar, contact:
Carol Brault
cbrault@accessintel.com
(888)-707-5814
Technical Difficulties
If you are having technical difficulties or need assistance, please contact:
Technical Support
tsc@talkpoint.com
1-866-709-8255
View the list of complete requirements and instructions for how to access webinars here.