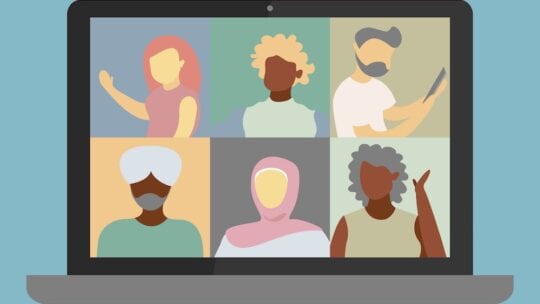 While most of us won't be back in our offices soon, communication leaders are beginning to imagine how to invite some staff into a hybrid model of in-office and remote. How safe and comfortable PR pros feel will be of utmost importance. For that reason, you could consider staggering workdays and assigning 15-minute arrival times to ease lines at elevators and reduce crowded lobbies. Below are other ideas for communicators returning to the physical office now and post-pandemic:
Create a Return-to-Work Task Force. This group can oversee aspects of the return, including best practices and innovation. Ensure the task force includes employees from different functions to discourage decision-making in silos.
Ideas from Everywhere. Another way to bolster inclusiveness is to seek feedback from employees and let it guide the evolution of your go-forward plan. One way to do this is to create a virtual tip jar where communicators can submit tips for improving the experience before they return to the office and after they arrive. Also useful: a confidential helpline with clear lines of support to management and HR.
Flexibility. It's not news that health and wellness of staff must be priorities when considering a return, and that flexibility is key. Make a plan, but recognize that it may change.
Adjust Processes. With staggered schedules, chances are a full house will be the exception. So, consider virtual pitching best practices. Think of ways you can bring the agency experience and culture to pitches—from sending muffins or cookies to executives' homes to utilizing visuals beyond Powerpoint. As creatives, we should find new ways to demonstrate our creativity to potential customers.
Adjust Processes, Part II: Similarly, be open to workplace innovations, including utilizing outdoor areas for meetings and holding walk-and-talk meetings. How about meeting in a park for a brainstorm session?
The Great Outdoors. Beyond spreading desks and offices apart, consider ways to discourage congregating in common areas, such as bathrooms and kitchens. Again, outdoor spaces might be useful.
Segmented Mental Health Support. While some employees are anxious about returning to the physical office, others prefer to expedite it—particularly those who live alone or with a roommate in a very small apartment. It's important to understand everyone's circumstances. Listen to their wishes. We know many feel always on and it's affecting their mental health. So, help each other. For example, where possible, avoid sending email during off hours. Instead, schedule email to go first thing the next day or put them in draft form and send during business hours.
Consider Individual Realities. Flexibility with communicators is necessary during the pandemic. It's especially the case for parents who may be homeschooling or have pre-school children at home.  An open line of communication between staff and senior leadership always was important. Now, it's vital. Keeping staff abreast of changes and ensuring individual comfort levels at home and in the office are key.
Create a Buddy System: Virtual meeting burnout is real. So, returning to the office could be a relief for some, but anxiety will exist. Establish a buddy system between communicators who are facing similar circumstances. This can help ensure everyone is coping well with the return. If you don't have one, establish a culture committee to help revamp culture in this changed environment, which includes work from home and the office.
Teamwork and Morale. Team building is vital. Make every effort to keep spirits up as your team works in a hybrid model. Suggestions include virtual happy hours, online games, trivia, book clubs and even virtual art classes. Avoid things becoming stale. As creatives, we are seldom short on ideas—but if you find yourself uninspired, don't forget that the virtual tip jar may help you determine what you need to prioritize.
James Wright is global CEO, Red Havas & global chairman, Havas PR Global Collective