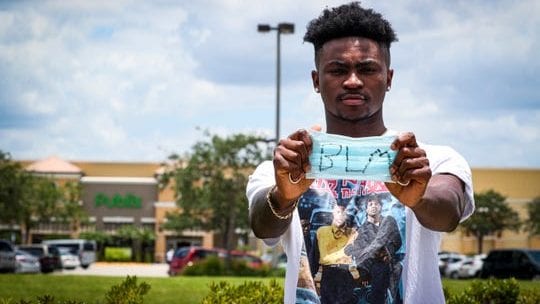 Photograph of Quinton Desamours: AP Photo/Andrea Melendez/The News-Press/USA Today Florida Network
Supermarket chain Publix will not allow workers to wear clothing featuring Black Lives Matter messaging, the grocery told the Fort Myers News-Press.
In response to what could be a communications crisis, Publix spokesperson Maria Brous pointed to company policy, telling the media, "Our uniform policy does not permit non-Publix messaging on clothing or accessories."
That policy raises questions around First Amendment rights at a time when national protests in support of the Black Lives Matter movement—accompanied by troubling footage and accounts of law enforcement at protests—have brought the right of Americans to peaceably assemble into full view.
In the case of employee apparel, some might argue the First Amendment's right to free speech applies, especially in light of recent National Labor Relations Board (NLRB) rulings protecting union employees' ability to wear union-affiliated apparel at work. However, Publix, which holds the proud title of largest employee-owned company in the country, is not unionized. This suggests the issue may well play out in the court of public opinion before litigation, if any, arises.
Adding to the potential to tarnish Publix' employee-focused brand is the fact that the story broke via a first-hand narrative from former employee Quinton Desamours, 18. Desamours, who is Black, quit after his boss prohibited him from wearing a Black Lives Matter mask. "He said I was putting myself and the rest of the employees in danger and he couldn't have me out on the floor with that mask on," Desamours told the newspaper. "This was never a political statement for me; it was all about equality and basic human rights."
In addition to her brief statement, Publix' Brous directed journalists to a letter from CEO Todd Jones to employees. The letter is housed on a "Committed to Diversity" landing page, with a header pledging a $1 million contribution to the National Urban League, the nonpartisan civil rights organization.
Without mentioning a specific incident, Jones wrote, "Today, it's evident that our support and compassion are required on an even deeper level." He also summarized company values: "At Publix, we reject racism and discrimination of any kind."
Outside of mentioning Publix' diverse workforce and urging employees to "listen with open hearts and to lead with empathy," Jones offered no action items promoting racial equity and inclusion at the company. And, while the National Urban League donation pledge is a powerful step, some communicators argue companies across every industry need to take concrete steps to promote long-term gains in racial justice.
Andrea Hamilton, CEO of Atlanta-based Theory Communications, told PRNEWS in an email that a "simple letter cannot be the only effort" if companies are to take a meaningful stand on racial equity. Hamilton warned communicators that "not allowing employees to practice their first amendment right, especially if they are Black, will quickly place you on the side of the oppressors. Positioning your business as 'being on the fence' will not be tolerated by the masses."
Hamilton listed several concrete steps companies can take toward stronger racial equity, including hiring more Black executives and acknowledging and expressing empathy for racism that employees have encountered on and off of the job. While Jones used the word empathy in his letter, he made no direct reference of Black employees' experience.
And, of course, there's the business case for brands taking a stand on racial equity: While supermarkets have been among the few industries that have enjoyed soaring profits amid the coronavirus outbreak, Hamilton argued that companies still have a ways to go in understanding that the Black dollar truly matters. Black consumers have more than $1 trillion worth of buying power in the U.S. annually, she pointed out.
As recent events have shown, it sometimes takes a PR crisis for brands to make sweeping decisions in response to calls for racial justice. Publix holding firm on its uniform restrictions follows Starbucks' initial choice to ban apparel with Black Lives Matter messages, and—after receiving widespread criticism following the choice—redacting the rule.
Starbucks has taken its policy reversal a step further, manufacturing 250,000 Starbucks-branded shirts with Black Lives Matter verbiage for employees to wear if they choose. Time will tell whether its customer base will appreciate the coffee brand's latest effort.
Often, communicators believe they do not have the clout to influence business-wide decisions like Starbucks' and Publix' uniform policies. To that end, Hamilton reminded PR pros that they can no longer afford to remain on the sidelines. "This is not just a 'Black' problem, this is a human rights issue. It's becoming very clear that a line in the sand has been drawn and you are either considered for this cause or for oppression."