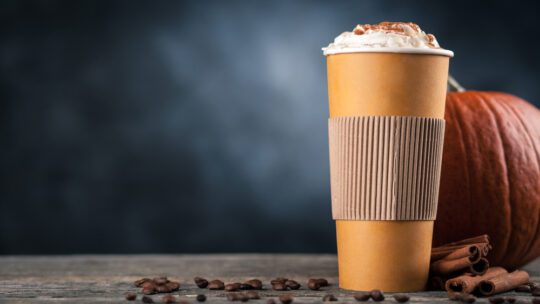 Love it or hate it, pumpkin spice latte, also known as PSL, season arrived today (Aug. 30). 
Regardless of record temperatures blanketing the country, Starbucks announced the annual return of its iconic drink, igniting "summer is still in full swing" vs. "welcome fall, I'm ready" disagreements on social. Who would have thought flavored coffee could become such a polarizing drink? 
Today is the first day of #psl season and while I, personally, hold the opinion that pumpkin spice lattes are vile, I am willing, able and eager to be happy for folks who love it.

It ain't hard!

— CJ Tamasco (@cjlake) August 30, 2022
Brands of course, cashed in, with some doing better than others. Nickelodeon and Tootsie Roll took advantage of the social conversation, while Target and Upwork's approaches landed flat. 
y'all know the drill, it's that time of the year #PSL pic.twitter.com/mCjS0cKvNF

— Nickelodeon (@Nickelodeon) August 30, 2022
move over PSL, the harvest Chews are here pic.twitter.com/KaPVJRMZub

— Tootsie Roll (@TootsieRoll) August 29, 2022
rt this if u already went to starbucks this morning https://t.co/x58mdKNaNA

— Target (@Target) August 30, 2022
We have pumpkin spice🎃🍂 jobs: https://t.co/ROYKCK7A2K https://t.co/uGKJBkyr4c

— Upwork (@Upwork) August 30, 2022
Follow the Pumpkin Spice?
When it comes to cultural trends, it's easy to see why brands and organizations want to hop on, maximizing SEO and gaining recognition.
There are many instances of this. There was the ALS ice bucket challenge. Recently, brands like Chips Ahoy, Chipotle, Busch Beer and even Spotify paid homage to "Corn Kid," a young man named Tariq, who declared his love for corn in a now-viral video.
But hopping on a trend can be tricky. As with PSL, the context does not work for everyone. We chatted with a few PR professionals to get their opinions on when it's right to buy into a trend and devote resources toward piggybacking. And like the timing of the PSL release, experts are split on the decision to follow a trend.
Keith Dorsey, CEO, YOUNGGUNS MGT: "I look at this as a positive because the more conversations you have around your brand, the more successful it can be. You want to be the 'talk of the town' and first. Even though it may seem to be too soon [seasonally] for some, [others] can't wait for the fall season to start. [Starbucks has] a fan base that can stir up the conversation [online], which could help this organically turn into a viral thing."
Robert Barletta, EVP, Marino, Food & Beverage Practice Leader: "As I walked through Costco this week and saw a full aisle of Christmas items, it's apparent that jumping the gun on holidays and seasons is here to stay.
The adage 'early bird catches the worm' seems appropriate here as other brands ride the early wave set by the likes of Starbucks and others. While it may annoy some, it obviously is effective in driving sales."
Jee Nah Chang Walker, EVP, Lifestyle, Kaplow Communications: "If a competitor makes an announcement, a brand may feel the need to rush to make a similar announcement. But consumers can inherently tell when a brand appears to be opportunistic.
There will always be others making headlines or noise, but it's critical to protect your brand and stay focused on your communication goals and plans without being swayed by what competitors are doing.
If you're considering piggybacking on a trend, the first question to ask is whether the trend is truly authentic to your brand values, products or service and if there is a natural connection. If not, it's probably better to stay away."
Adam Ritchie, Principal, Adam Ritchie Brand Direction: "Starbucks is today's focus because they've succeeded in making the pumpkin spice latte the harbinger of the season. 
Piggybacking brands may also be counting on consumers being over summer. This was the summer that Covid's latest release, BA.5, rocketed up the charts and Roe V. Wade was overturned. It's a lost summer for people ready to look ahead.
The only thing Starbucks is guilty of is a lack of creativity....Instead of simply announcing the return of the pumpkin spiced latte, they could have done an invention in PR around it, and launched a Starbucks pumpkin spice-inspired sweater in collaboration with Old Navy, or Starbucks pumpkin spice-inspired fall boots in partnership with L.L. Bean....They can do better."
Starbucks Is Listening
Starbucks' social certainly knows its banner calendar days and pays attention to the conversation, particularly from some of its more famous fans. Five stars for this reply.
🎶🧡 Turn up the flannel, turn down the lights 🧡🎶

— Starbucks Coffee (@Starbucks) August 30, 2022
Nicole Schuman is a senior editor for PRNEWS. Follow her: @buffalogal