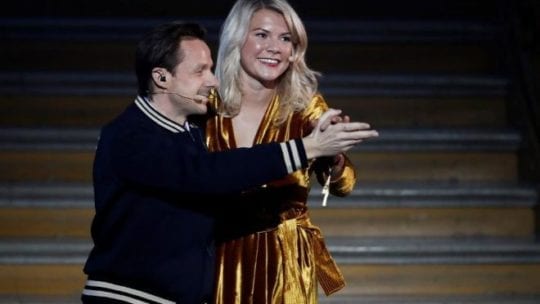 It seems obvious that with #MeToo we are living in a time when decades of wrongs, largely against women, are being called out, albeit slowly. It's always important for communicators to understand the mood of the times and how their brands operate within that ecosystem. It can be argued it's even more important at the moment.
Recent examples abound that show that some people and brands still fail to understand what seems obvious. Science's Neil deGrasse Tyson is one of the latest celebrities to badly misjudge the atmosphere, posting an apology on Facebook that was anything but apologetic.
Tarnished Gold
An more recent example occurred in Paris during the evening of Dec. 3, with the first presentation of soccer's annual Ballon d'Or award to a female player. Male players have been receiving the prestigious honor, which recognizes the best player in the world each year, since 1956.
Ada Hegerberg, a 23-year-old Norwegian striker who plays for France's Lyon side, had just received her award. She made sure to thank her teammates, coach, team president and France Football. "This is a huge step for women's football," Hegerberg said.
But the historic evening became awkward when the man who presented the award, the French DJ and producer Martin Solveig, asked Hegerberg, in French, if she could twerk to celebrate. Hegerberg answered with an abrupt "No," according to a report in Time. The audience, Time says, was stunned.
Unsurprisingly, there was extensive backlash on social media.
Absolute trash: French DJ Martin Solveig asks Ada Hegerberg to twerk after receiving the first women's Ballon d'Or award. (Love her response, though.) This is the crap female athletes deal with on a daily basis around the world.pic.twitter.com/y2TLe3v4u9

— Grant Wahl (@GrantWahl) December 3, 2018
Fortunately Solveig quickly understood his misstep and posted a lengthy apology on Twitter. Unlike deGrasse Tyson's statement, Solveig attempted to apologize (with mixed results). He acknowledged "that [the twerk request] was in poor taste" and explained that his act is to dance with women to various tunes. Instead of asking Hegerberg to dance he went off script a bit and wondered if she could twerk instead. "I am deeply sorry for my mistake," he wrote.
Where Solveig's statement fell short was when he claimed his actions were taken out of context and "misunderstood." PR basics say if someone is going to publicly apologize, they should do so unequivocally. An appropriate statement has the accused owning the mistake and moving on. While his explanation of what he did doesn't stoop to the level of deGrasse Tyson's lengthy essay, Solveig's justification weakens his apology.
Know When to Stop
A video he posted later weakened his initial statement even more. In the video, Solveig said the online comments he'd seen about the incident "amazed" him, intimating he was surprised that his actions had angered so many. Again, the correct path in these situations is to apologize and step away from the limelight (but make sure a communicator is monitoring the social conversation).
Hegerberg, on the other hand, handled the situation well, quickly downplaying and defusing the incident, which should have been a relief to Solveig and European soccer.
Solveig's video corollary to his written apology indicates that not everyone is aware of the current climate. Such awareness should be second nature to communicators. It might not be for the executives and clients they work with, however. It's the communicator's job to make certain brand representatives take cultural cues into consideration when they speak.
Seth Arenstein is editor of PR News. Follow Seth: @skarenstein