Late last month we saw a survey from The Conference Board's Society for New Communications Research (SNCR) that argued integration between communications and marketing departments remains a valid concept, although the pace at which it's happening might be slower than expected (PRN, February 27, 2018).
None of the revenue categories of companies SNCR surveyed showed a majority had a fully integrated model where communications and marketing functions reported to the same leader or integrated performance and measurement reporting.
What SNCR's survey of 102 public companies found was most operated each function separately but with collaboration on many projects.
Companies in the financial sector were the most likely to integrate marketing and communications under a single leader (54%), SNCR's survey found. Similarly, financial services was the sector where communications leaders most often reported to chief marketing officers (also 54%).
As you can see from the table below, the PR News Salary Survey (2018) largely tracks with the SNCR's findings. While the percentage of communicators reporting to marketing is significant at 22%, full integration has some way to go. On the upside, 28% of communicators report to CEOs.
[Note to Subscribers: You can access the PR News Salary Survey (2018) at the PR News Resource Center and the PR News Essentials Page.]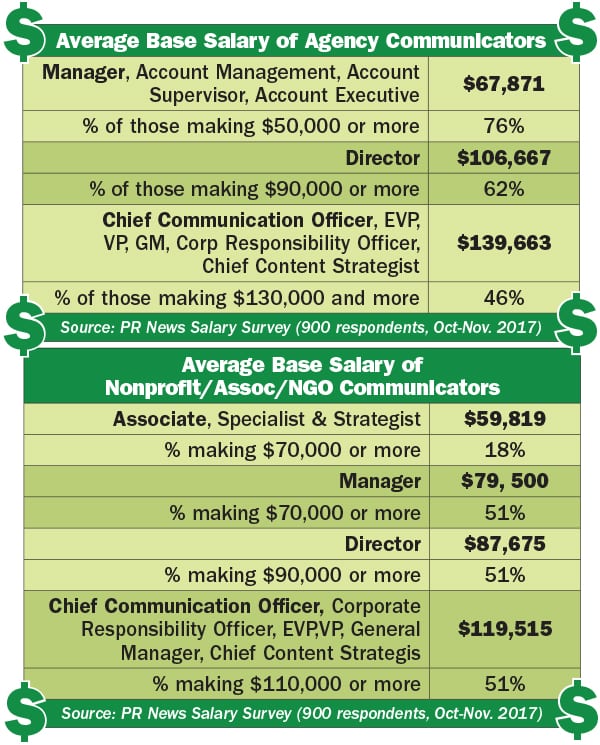 Better Salaries at Nonprofits
Looking at the salary charts above, it's clear and unsurprising that agency staff are out-earning nonprofit communicators. Still, there was good news for nonprofit communicators in that some of their base salaries showed improvement since our previous survey in 2016. For example, only 21% of the the top nonprofit communicators surveyed had a salary of less than $70,000. In 2016 the same salary was claimed by 50% respondents. The majority of salary increases in the 2018 survey were 1%-3% and 36% were in the 4%-6% range.
For nonprofit marketers the news was good, too. The average 2017 base salary reported by marketing communications directors at nonprofits was $87,675. Moreover 70% earned between $50,000 and $109,000 and 51% took home at least $90,000; this was better than the 28% who did so in 2016. 74% of salary increases were 1%-3%.
On the agency side, the figures were similar to those reported in 2016. For example, one in five directors (17%) reported a base salary of $170,000+. About 43% earn at least $130,000. Directors' average salary was $121,656. Six in 10 directors reported a 1%-3% salary increase in 2017.
NOTE: This content appeared originally in PR News, March, 13, 2018. For subscription information, please visit: https://www.prnewsonline.com/about/info