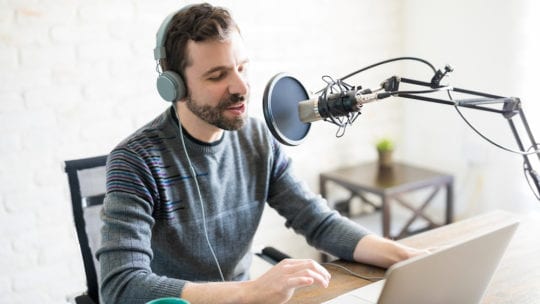 With the spread of coronavirus comes the need for increased public access to information. Much of that information is provided by way of healthcare facts and figures from government briefings, while other sources include the media and brands' updates for their audiences. 
This is a time where the public likely won't mind over-communication as people clamor to learn everything they can to protect themselves and their families. And while every organization has its preferred method of distributing information to its audience, some are turning to podcasts for more comprehensive discussions around necessary information.
Podcast Leaders
Publishers have led the way in creating coronavirus-themed podcasts, examples being CNN's "Coronavirus: Fact vs. Fiction" launched in late February, and BBC World News' new daily, "Coronavirus Global Update." Inside Radio reported that a quarter of all news pods are now entirely coronavirus focused. 
The success of news podcasts can also be seen in other sectors, like health care. Mayo Clinic, one of the foremost institutions for medical content, released a miniseries for those searching for the latest on the virus. The public will continue to turn to time-tested health resources in times of need.
Podcasts and PR
Robert Johnson, partner at RIESTER Public Affairs launched the podcast PR Nation with his wife and fellow practitioner, Summer. The couple began their careers in broadcast journalism, so the audio format felt natural to them. The pod focuses on PR takeaways. In light of COVID-19, PR Nation pivoted to provide practitioners with ideas, tips and strategies they could use right away, no matter their title or assignment.
"Like a newsroom, we are following the story, deciding as news develops what topics would be helpful to the PR pros listening to our show," Johnson said. "Being former broadcast journalists, we are accustomed to being flexible with our content plans." Having a studio as part of their home office helps, he added.
Right now, PR Nation's central message for its shows is fluidity in the communications practice. 
"Be flexible in your work and keep the focus on the needs of your audience," Johnson advised. "Also, this is a good time to practice turning on a dime. Pros who can do that always fare better than their peers."
Robert and Summer want listeners to walk away with actionable learnings. Their podcast focuses on "PR pros in the trenches," with guests sharing their own secrets for doing great work. 
"[Guests] teach our listeners how to write speeches, respond to RFPs, or improve their writing skills," Johnson said. "Most PR podcasts cater to the 1 percenters. That's not us. If you don't learn something from our show, we've failed to do our job."
How to Start
Not everyone will benefit from a COVID-oriented podcast during this time, so listening to your audience needs and wants is essential before jumping in. 
"An entertainment podcast might be better off recognizing the pandemic, but sticking to regular programming," Johnson said. "A business podcast is well-suited to content teaching listeners how to work at home and over Zoom connections. If it makes sense to talk about your part of the COVID-19 way of life, then do it. If not, don't try to jam a square peg into a round hole."
Kevin Turner, head of podcast communications at Spotify sent PRNEWS an extensive list of tools for those looking to start podcasting. Spotify acquired podcast publisher Gimlet Media as well as the podcast creation app Anchor in 2019. 
"Anchor is the easiest way to make a podcast," Turner said. "It's an all-in-one platform where you can create, distribute, and monetize your podcast from any device for free. We also recently announced new capabilities for Anchor that make it easier for podcasters to record and conduct remote podcasts and interviews, Record With Friends 2.0."
Turner also suggested the tool Spotify for Podcasters, which gives broadcasters a chance to see data like their listeners' music taste, age, gender, location and how long they listened to a particular episode. It also features an accompanying blog with interviews and tips for starting a podcast.
And for podcasting beginners interested in the craft, Turner recommended Gimlet Academy, a five-part podcast series from podcast pioneer (and co-founder of Gimlet Media) Alex Blumberg that explores how to tell compelling audio stories.
"People underestimate how much time and work it takes to make something that will hold an audience's attention," Blumberg said in a statement from Spotify. "Think hard about what you actually want to say. Don't think that a podcast will lead to fame or fortune. Instead, consider what it is that only you can offer and how you can speak directly and honestly to a community that matters to you."