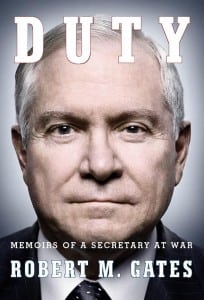 "Duty," the new memoir by former Secretary of Defense Robert M. Gates, was officially released on Tuesday. To plug the book Gates has been making the rounds on the TV talk shows, and then some. The interest in Gates' book is a reminder of  the important role that communicators play in conducting media tours.
Gates, who served at the highest levels of government for more than 25 years, writes about his experience serving Presidents George W. Bush and Barack Obama during the wars in Iraq and Afghanistan.
Few authors get to pick and choose the programs (TV, radio, Web) in which they want to appear in order to plug their books, of course. But whether the author's appeal is to a niche audience or the book is riding the crest of the zeitgeist wave, there are several rules that PR pros should follow when they're in charge of a media tour.
With that in mind, here are several tips, both in advance of the appearance and the day of the show, as it were, compliments of Lauren Carmody, director of PR at Adams & Knight.
> One week in advance:
> Follow up, and create a Brief: Confirm all appointments. Also, double-check the reservations for drivers and hotels. If a reporter cancels, set up a replacement for that time slot.
Start writing your briefing document. With this piece, you should detail:
• Which reporters you'll be talking to
• What publications they write for
• How they've covered topics similar to yours
• Recent samples of each reporter's work
• A full schedule for the tour, including addresses, phone numbers and cross-streets for all meeting locations
> Day of:
Be Prepared— But Expect the Unexpected: Confirm all of your scheduled meetings, first thing. And make sure to give your driver a copy of the brief with the schedule for the day with all meeting locations.
Once your executive is ready, have these items on hand:
• Media list: Complete with all reporters' contact information for the day.
• Contact information for other reporters: Journalists you can call if—despite your best efforts—your scheduled meetings are canceled at the last minute.
• An umbrella: Just in case it rains.
• Stain stick: Nothing worse than a mustard stain on your executive's freshly dry-cleaned shirt.
• Briefing document: Review this with your executive on the drive to your first appointment
Follow Matthew Schwartz: @mpsjourno1