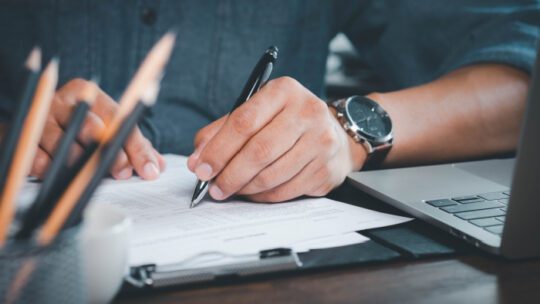 California's largest homeowner insurance provider is saying goodbye, citing wildfires, skyrocketing construction costs, and other issues to protect itself from financial losses in the state. State Farm's decision to no longer take new applications is at least the third similar decision by major insurers in the last year, and comes after the company's homeowners insurance department lost over four billion dollars in California in 2021.
It's never easy to announce that your company is leaving a huge market, or that you are making that decision "to improve the company's financial strength." State Farm's communications team deserves credit for limiting brand damage by choosing a simple, straightforward statement that said and did all of the right things.
The State Farm Statement
Here's what State Farm announced last week:
State Farm General Insurance Company®, State Farm's provider of homeowners insurance in California, will cease accepting new applications including all business and personal lines property and casualty insurance, effective May 27, 2023. This decision does not impact personal auto insurance. State Farm General Insurance Company made this decision due to historic increases in construction costs outpacing inflation, rapidly growing catastrophe exposure, and a challenging reinsurance market.
 We take seriously our responsibility to manage risk. We recognize the Governor's administration, legislators, and the California Department of Insurance (CDI) for their wildfire loss mitigation efforts. We pledge to work constructively with the CDI and policymakers to help build market capacity in California. However, it's necessary to take these actions now to improve the company's financial strength. We will continue to evaluate our approach based on changing market conditions. State Farm® independent contractor agents licensed and authorized in California will continue to serve existing customers for these products and new customers for products not impacted by this decision.
Setting the Narrative
This statement is a great example of setting the narrative when making statements that may hurt a company's brand. Here is what I believe communicators can learn from State Farm in this case.
Get in front of bad news transparently, with no wasted words. People will understand that you had to make a tough decision; they won't appreciate MBA word salads that try to deflect or dramatize.
Share relevant data and, if possible, good news. State Farm took just two sentences to describe its reduced presence, the date of implementation, and that the decision didn't impact auto insurance. The statement's closing line informed customers that they wouldn't lose coverage.
Don't unnecessarily alienate stakeholders. The statement blamed neutral factors for its decision – construction costs, wildfires, and "a challenging reinsurance market" – not elected officials and regulators whose decisions have partially created high construction costs. It also explicitly "recognized" these stakeholders' "wildfire loss mitigation efforts" and vowed to work with them to "build market capacity."
Develop and announce concrete next steps. In addition to vowing to work with stakeholders, State Farm said it will "continue to evaluate" whether it could take new homeowners insurance policies in the future. While the chosen phrase is vague, it is concrete when combined with the vow to work with stakeholders.
Let everyone know the world isn't ending. The statement's closing line assured existing customers that their insurance wasn't going anywhere, and told prospective customers that other insurance products would be available.
It's easy to see State Farm's decision as "bad" news for the company. But it's actually bad news for California, a state that one media outlet described as "becoming uninsurable" after State Farm's announcement. It's great news for State Farm's ownership, staff and customers that the company is rightly focusing on being more profitable.
Setting a narrative is extraordinarily difficult in today's online world. By keeping things simple, and providing all of the information the right way, State Farm set a narrative that resulted in media coverage that was often as focused on the wildfires as the decision itself. It wasn't silence as a strategy – but it was wisely as close as it could be.