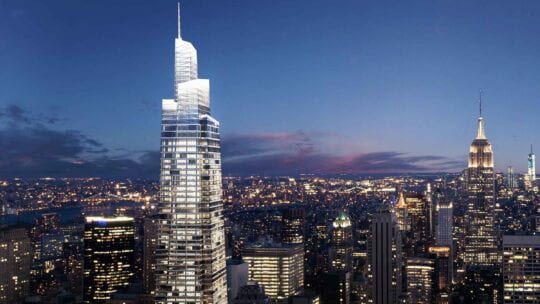 New York City became a national epicenter of COVID-19 cases in April 2020. The government closed non-essential businesses, such as bars, restaurants, theaters and shops. Offices mandated employees work from home where able, and living rooms became classrooms. Launching a business seemed like an unfathomable idea. 
And yet, the real estate team at PR firm BerlinRosen forged ahead to prepare for the ribbon-cutting and launch of One Vanderbilt, the newest addition to the city skyline. Originally intended for an August 2020 debut, the skyscraper was in jeopardy. Thankfully, the state allowed construction to continue—one of the first industries to return to work. 
In the spring, One Vanderbilt already boasted 70 percent tenant capacity, allowing BerlinRosen to focus on new messaging and a pending September launch. 
"In a normal situation, you would have been looking at a grand opening celebration with hundreds of people and a really, really big celebration. That clearly couldn't be the case given the situation," said Jeremy Soffin, an EVP at BerlinRosen who leads its national real estate practice. 
So how to communicate and navigate the opening of a building during a pandemic? And not just any building, but one that helped to impact the surrounding infrastructure and systemic design of one of the largest cities in the world? 
20 Years in the Making
Soffin started working on One Vanderbilt more than six years ago. Construction plans began almost 20 years ago: surveying land, structure and ideation. Developer SL Green Realty Corp., Manhattan's largest office landlord and developer, hired BerlinRosen initially to handle the project's public affairs.  
"Real estate in New York is, of course, very political, and many projects require political and public approvals before they can move forward," Soffin said. 
The firm helped craft a campaign to build support for the project. The goal was to get the attention of a New York City mayoral office in transition, as it was at the end of the Mayor Michael Bloomberg administration. In the years since, BerlinRosen took on more responsibility. The firm added to its PR remit, creating an advertising strategy for leasing. 
Launching During a Pandemic
After COVID-19 hit, it seemed as though some forlorn ad hit your TV or inbox every 10 minutes. People got used to hearing phrases like unprecedented times and the new normal. But One Vanderbilt took a different approach. Messaging shied away from the pandemic and focused on the current and future impact of this new addition to NYC.  
"I think the most important thing was to really make this opening symbolic and more meaningful because of the situation," Soffin said. "The coverage and social media and the content carried a message about the future of New York that was bigger than just talking about how great the building is."
BerlinRosen's digital team and creatives focused on creating and delivering a positive sentiment that took over a role so much bigger than simply a new building. 
Katharine Offinger, SVP, digital, started at BerlinRosen in 2016, the same month that One Vanderbilt broke ground. Overseeing the new construction project's social media, including Twitter and Instagram accounts, her teams shifted messages accordingly. At first, the goal was to entice leasing clients. Later, it became more about creating a beloved icon from the ground up.
"Skyscrapers go up...all the time in New York City, and we wanted this one to be really special," she said. "What makes it special is the obvious architecture and things you can see, but also the other things, like the massive private investment into the subway infrastructure ($220 million), and what the developer was doing for the city."
The Importance of Digital
The digital content became a crucial part of the campaign since so many New Yorkers were home during the pandemic—including Offinger's team. Fortunately, team members were accustomed to working and communicating digitally. 
In addition, the digital team was important for the building's launch ceremony. As COVID-19 restrictions limited the number of people who could attend the ribbon cutting, the team had to adapt. It utilized virtual concepts for those who could not attend. 
"(Digital was) the chief way that a lot of folks were getting their information...seeing the images from the ribbon cutting (on social media), as opposed to a big party or tons of advertising across the city," Offinger said. "We knew that we were going to have to shift a lot of our activities to digital, which was...exciting for us because we got to push out a ton of content, but we had to be pretty on point."
Soffin's and Offinger's teams collaborated to create a plan that captured the excitement of opening day. It was not just a livestream for those who couldn't attend during the pandemic, but quality content that everyone could follow. 
"It was important to bring people together in a safe and limited way, but it was also important that the opening needed to be commemorated and celebrated," Soffin said. 
The teams started preparing in August for a September ribbon cutting. 
"It's always good to have a deadline, and I think that was a sort of a good rally cry," Soffin said. "Sometimes it's better to have a little bit less time. Sometimes you spend two weeks going back and forth on something that may only actually take a (few hours)." 
Promotion included a timeline of posts and stories on Instagram that users could follow, from groundbreaking to the first tenant signings and the topping out of the building. Video vignettes were cut for social media. The group created a full-page ad for The Wall Street Journal as well as a cover wrap for the New York Post.
We've come a long way since breaking ground in 2016. Watch the story unfold. #OneVanderbilt pic.twitter.com/iEb3uXHh3p

— One Vanderbilt (@one_vanderbilt) September 15, 2020
One Vanderbilt also did a partial takeover of Grand Central Station, with ads appearing on every digital screen, up and down the platforms, and in the main hallway, covering at least 60 percent exposure in the building. The digital team also created custom gif stickers for Instagram, including a ribbon with One Vanderbilt and a little scissor clipping it, as well as a construction hat.
Offinger said one of the goals was to make people feel good about the launch. 
"If you look at any given post, so many of the comments are positive...the sentiment is overwhelmingly positive, and that's one of our big markers, and how we view this effort as a success," she said.
Lessons and Meaning
No doubt, shifting gears during the pandemic is a lot of work. But everyone involved in the One Vanderbilt project seems to be left with a swell of pride, not only for the campaign, but for the city. 
For Offinger, pivoting messaging to focus on a positive sense of resiliency, and the opportunity to celebrate the project workers, resonated. 
"We were very much pushing out a message of 'By New Yorkers for New Yorkers,'" she said. "We established this as 'New York is open. It's time to come back.' We projected this awesome moment outward through our content, regardless of who you are, where you are, or how you feel about Class-A office space."
Nicole Schuman is a reporter for PRNEWS. Follow her @buffalogal