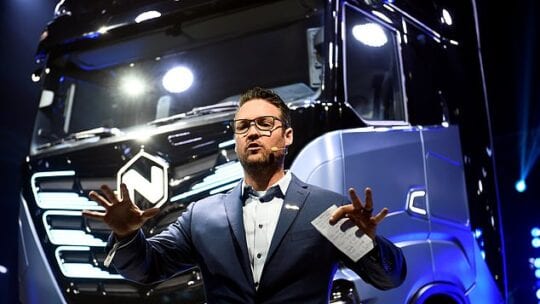 The resignation of Trevor Milton as chairman of Nikola Corp. (Sept. 20, 2020), raised the stakes in the company's battle with Hindenburg Research. It also raised the headache of dealing with short-sellers.
Phoenix-based Nikola, which aspires to make battery- and hydrogen-run trucks, certainly has hit a bump in the road.
This PR crisis began Sept. 10, when a short-seller, Hindenburg Research, published a report arguing that Nikola is, well, a fraud. US regulators and prosecutors reportedly are investigating the accusations.
[Update, July 29, 2021, 9am: Milton was indicted on three counts of fraud today. He lied about "nearly all aspects of the business," the indictment alleges.]
Some view short sellers—who seek to make money by betting a stock price will plummet—as a cancer on the market. Others see them as a safeguard against corporate corruption.
The question for Nikola, of course: How to respond? There are standard responses to such an attack. The first is to argue the naysayer is simply trying to drive down the share price.
Eventually, though, one must confront the accusations. Arguing the facts is the best way to do that.
GM Partnership
In Nikola's case, the situation was particularly sensitive. It had just announced a strategic partnership with General Motors. That deal boosted investors' confidence in Nikola.
Hindenburg, whose report blasts Milton and his alleged "dozens of outright lies," was bursting Nikola's balloon. Nikola shares, which rose on the GM fanfare, crashed (no pun intended) with the Hindenburg nightmare.
Nikola, which has yet to release a product, released a brief-ish statement (211 words) Friday, Sept. 11—the day after the short-seller's report—disputing Hindenburg's claims. "We have nothing to hide and we will refute these allegations," it read.
On Monday, Sept. 14, Nikola issued a lengthy (2,200-word) press release. It begins with a list of projects in the pipeline, a not-misguided attempt to show that it's a real company. Then, decrying that the Hindenburg report "contains a number of false and misleading statements" (pretty milquetoast), it addresses those.
Prototype Truck Rolls Downhill
Nikola took an interesting approach in the Sept. 14 rebuttal. It followed each of 11 bulleted points  with the same italicized statement: "These allegations by the short seller are false and misleading, and designed to manipulate the market to profit from a manufactured decline in Nikola's stock price."
That language invoked a toying-with-the-market message. It reads like near legal boilerplate.
The accusation that drove most media coverage was Hindenburg's contention that a promotional video shows a Nikola truck rolling down a hill rather than moving on its own power. Nikola admitted this, but said the video never labeled the truck as being "under its own propulsion."
The press grabbed this. "Nikola Admits Rolling Truck Down Hill as It Counters 'Fraud' Claims," the Financial Times wrote.
As for chairman Milton's resignation, Nikola's press release on that makes no mention of Hindenburg's report, which raised suspicions and certainly didn't switch off the story's engine.
PR Takeaway: Transparency is Best
With Milton gone, the company must be transparent as it deals head-on with accusations of fraud that reportedly led to Securities and Exchange Commission and Department of Justice investigations.
It's good that Nikola didn't take the tack of some companies. In the wake of a government probe, many firms wait to speak out until the results of the investigation are announced.
The removal of Milton was important. As in all crises, a company must respond to a short-seller attack with facts and action. Nikola will have to continue to answer the allegations—silence in a crisis like this is deadening.
The situation remains challenging. GM reportedly is rethinking its investment in Nikola, yet shares rose more than a combined 30 percent Sept. 30 and Oct. 1 after the company said its production timeline was on schedule. That was a good move.
For Nikola to weather this storm and convince anxious investors it is viable for the long-term, it must explain how its ambitions for electric vehicles and hydrogen cells are attainable in the semi-truck market. In addition, it must describe in detail how it will meet its goals.
[Update, Nov. 30, 2020: Nikola shares fell when the company announced today that GM pulled out of its original deal and that the hydrogen truck project is off.]
Thom Weidlich is a managing director of PRCG|Haggerty