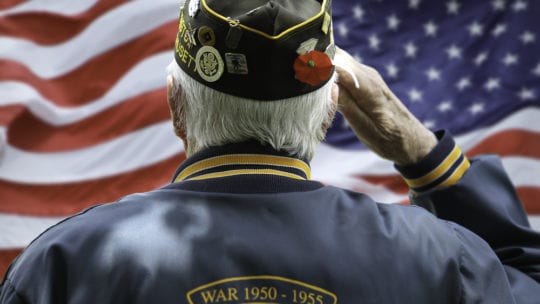 As Americans celebrate Veterans Day, it provides a great opportunity to review the role of public affairs and communications professionals serving in our armed forces. This is a team of some 4,000 professionals assigned to duty stations across the globe.
Imagine practicing PR when your organization's business objective is protecting democracy and defending millions of lives.
That was the theme of a keynote panel at PRSA's 2019 International Conference last month. During a "star-studded" session, senior public affairs leaders from each of the military branches shared insights from leading global communications teams that dwarf the size of all but two or three global PR agencies. Approximately 100 military public affairs professionals attended this year's conference.
Fake News: A Universal Issue
In many ways, military public affairs officers are not so different from strategic communicators in the civil sector. The panel's opening made that clear with a discussion of something that confronts nearly all PR pros: misinformation, fake news, and corruption of the channels of communication.
Citing examples from operations in Afghanistan and the Pentagon, Navy Capt. Brook DeWalt explained the armed forces tackle misinformation head on, with "facts – truthful, forthright and timely."
"There is so much misinformation," DeWalt continued. "We have to do our due diligence, build and disseminate trust, attack misinformation with facts, and keep attacking until we get to the truth."
Public Accountability
Accountability is a major theme in the military and non-military PR world. Air Force Brig. Gen. Ed Thomas explained the communications imperative of informing the public about how and why the services operate as they do. "We owe accountability [to the American people] for the treasure they provide us – the money they pay in taxes and their sons and daughters that join us. We cannot do what we do today without the clear connection and support of the American people," Thomas said.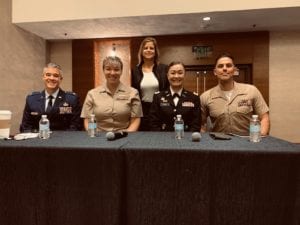 PR pros often think about stakeholders. Similarly, stakeholders were mention when Army Col. Kathleen Turner addressed the scale of the military's communications challenges.
The workforce totals more than one million soldiers. In addition, there are allies and partners from multiple countries. She explained the Army's process for aligning strategic opportunities with "guidance, priorities and messages," synchronized at the levels of Army senior leadership, general officer, and action officer.
Employee Advocates
How often do communicators in the non-military world hear the concept of employees being your best brand ambassadors? The concept applies in the military too. Speaking from the perspective of being part of the Department of Homeland Security, Coast Guard Admiral Melissa Bert explained how the Coast Guard relies on service members to relay the Coast Guard narrative. "We don't have a robust public affairs program," Turner said. She added, "We ask every Coast Guard man and woman to tell their own story."
Turner said the Coast Guard doesn't publish a public affairs guidance. "We publish Commandant's Guidance, so every member of the Coast Guard understands what's important."
Communications as Organization
USMC Marine Corps Brig. Gen. Sean Salene outlined a similar strategy. "In the Marine Corps we issue mission-type orders. There isn't a separate communications plan, there is an organization plan.  As communications professionals, we understand the what, but more importantly, the why. The how we can develop later." He explained trust and common values underpin successful execution.
Brig. Gen. Thomas summarized the Air Force's strategy for aligning communications across the organization.  Communications must: (1) be leader driven, (2) have a "vicious focus" on a few discreet priorities, and (3) include basic blocking and tackling – basic skills and message management.
In closing, Brig. Gen. Salene returned to values. Why are military service and military public affairs important? "We all swore an oath to support and defend the constitution, and its first amendment – the right to free speech. That is important to our democracy."
Salene added, "I believe we are a good and decent people, and you're worth fighting for."
Robert Hastings is a former Assistant to the Secretary of Defense for Public Affairs. He is chief of staff/CCO at Bell. @RTHastingsJr