In this 2nd edition of PRNEWS' Media Relations Guidebook, over sixty articles explain how best to pitch, build relationships with, and manage the media in both good times and during crises. This 8-chapter resource contains practical implications for some of the most innovative developments in media relations, including the technologies, methodologies and mannerisms that determine the ecosystem in which PR pros practice this essential part of their craft.
Our contributing writers to this Media Relations Guidebook run the gamut of this industry sector. Each author brings insight to his or her subject from roles as agency advisors, corporate practitioners, marketing communications executives and academics.
---
Overview | Chapters | Featured Companies | Samples | Buy Now
---
Overview
Public relations professionals who engage with the media most effectively have mastered the messaging and the communications tools needed to deliver stories that advance the objectives of their clients. While much in the industry has changed, the imperative of communicating with the media has not.
As the landscape evolves, there are no easy answers to the overarching challenge of how to get a story effectively distributed to the media. Social media has changed everything, shaking the very foundations that time-tested media relations strategies were built on and changing even the basic definition of media players.
Today, PR professionals face questions that they have only recently begun to grapple with. Do press releases matter anymore? Do bloggers count as influencers? Can we take citizen journalism seriously? How can we best use social media to reach different outlets?
Now more than ever, the savvy PR professional has tools at his/her disposal to come up with new ways to disseminate information quickly and intelligently, securing that all-important coverage along the way. That's not to say that old-school methods don't apply anymore. Instead, a major focus of the industry—and this book—is to take those hard-earned lessons about the media and apply them to the new situations PR professionals face today.
Chapters
Featured Companies
This guidebook features case studies and contributions from companies like: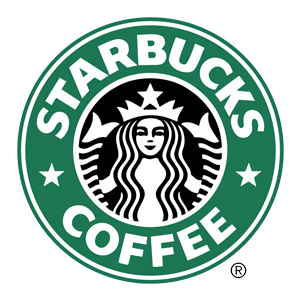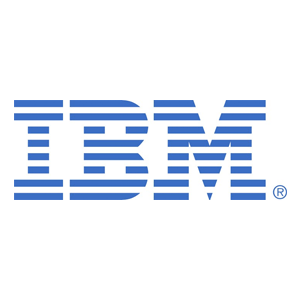 Samples
Here's a sample of some of the exclusive content in this guidebook:


A sample article: Join the National Conversation by Understanding How Top Journalists Work By Christopher Rieck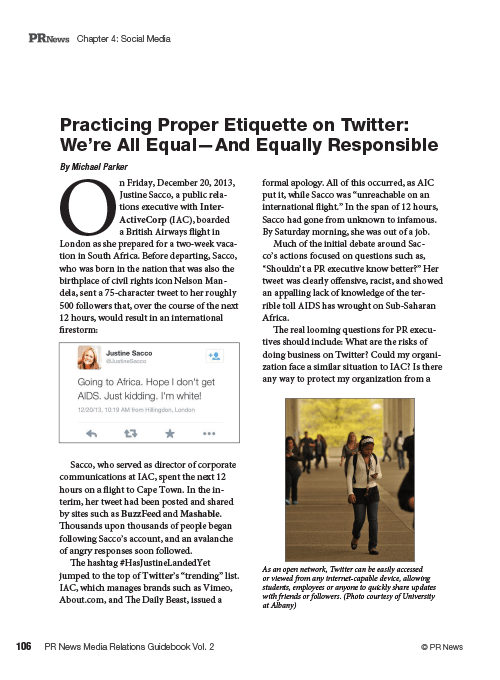 An excerpt from Practicing Proper Etiquette on Twitter: We're All Equal—And Equally Responsible By Michael Parker
Buy Now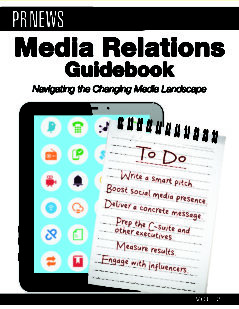 If you have any questions or would like to order by phone, contact Client Services at [email protected] or (888)-707-5814. All PR News book sales are final.