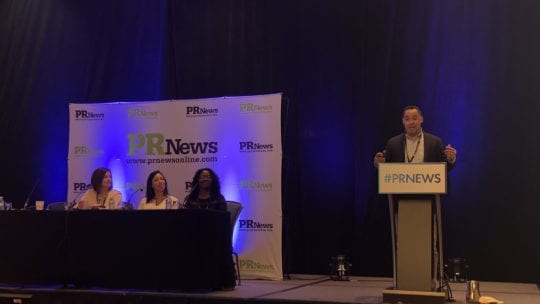 Measurement is key to every effective communications strategy, but reporting isn't the be-all and end-all. Relevancy is.
That was the big takeaway from a panel discussion, "How to Measure the Success of Your Healthcare Content for the C-Suite," at PR News' inaugural Healthcare Social Media Summit, held Oct. 23 in Baltimore.
"There's a ton of data out there," said moderator Rob Oquendo, Spectrum's EVP, digital and creative. "How do you parse out what is most relevant?"
Considerations for measurement and analytics platforms should include defining and measuring your KPIs, embracing as much data as you can get, utilizing real-time data aggregation, and optimization.
Panelist Linda Wharton Boyd, director of communications, external affairs and stakeholder engagement for the DC Health Benefit Exchange Authority, said, "What's most important for our stakeholders" is how many people are enrolled in the Affordable Care Act exchange. To that end, her measurement often involves focus groups and direct contact with consumers, as well as census data.
But while this kind of direct data is universally invaluable, not every strategy will include this approach.
For Tina Starkey, national director, social media, for the American Cancer Society, it's about identifying the target audience first, and "what is the metric" that needs to be measured to account for that audience. "It's hard to stay focused on that sometimes," she said. "Some metrics are sexier than others."
But in choosing a primary objective, "you're not married to it," said panelist Emily Shirden, a partner at Finn Partners. "You can evolve how you're looking at data, what data you're looking at, try different tools, bring in different perspectives. Make sure benchmarks are in fact the best benchmarks."
But when executives are conditioned to look for certain metrics and results, how to get them to focus on what may be more relevant?
"The best step is to start with leadership," Shirden said. "We shouldn't be guessing. We're putting a lot of resources and budget toward our programs. [We need to] understand what stakeholders really want. What is the ultimate goal that is going to move the needle for the org? What KPIs are best to measure that? Then get creative with the channel, the tactic."
When it comes to dashboards, the executive level should be a rollup, the panelists agreed. On the details level, the data should be such that users can extrapolate insights and make decisions month after month to optimize the work.
"People who are touching the program, they need to be in the weeds," Shirden said. "Not only have a dashboard, but talk about it. Talk about what the data means and where to go from there."