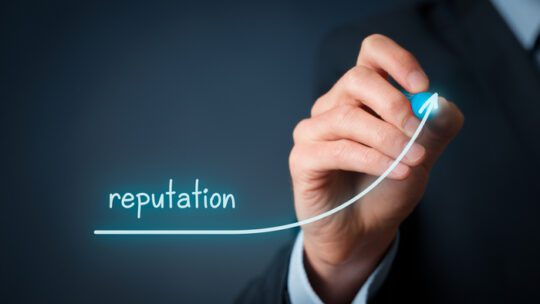 A strong reputation can be a useful defense during a PR crisis. But can we manage reputation? Yes, say ReputationDividend and Signal AI, among others. Yet, as you will see, reputation measurement is not without hurdles.
For example, ReputationDividend focuses on reputation's dollar value.
Commercial performance, it says, "lays the foundation" for a company's success, but reputation "channels stakeholder commitment."
Profits are critical, but so is reputation, or "thoughts, feelings and impressions in the minds of company watchers…[these] underpin investor confidence and secure the stock price," it says in an August 2021 report.
The report looks at stocks of S&P 500 companies. It's cagey about how it fixes a dollar figure for what it calls Reputation Contribution (RC), though it's based on nine factors, including innovation, people management and social responsibility.
It defines RC as the proportion of a firm's market cap related to the confidence its reputation inspires. Companies with high RCs suffered smaller dings to their market caps during the pandemic's initial market crash than companies with lower RCs. Their recoveries were swifter too.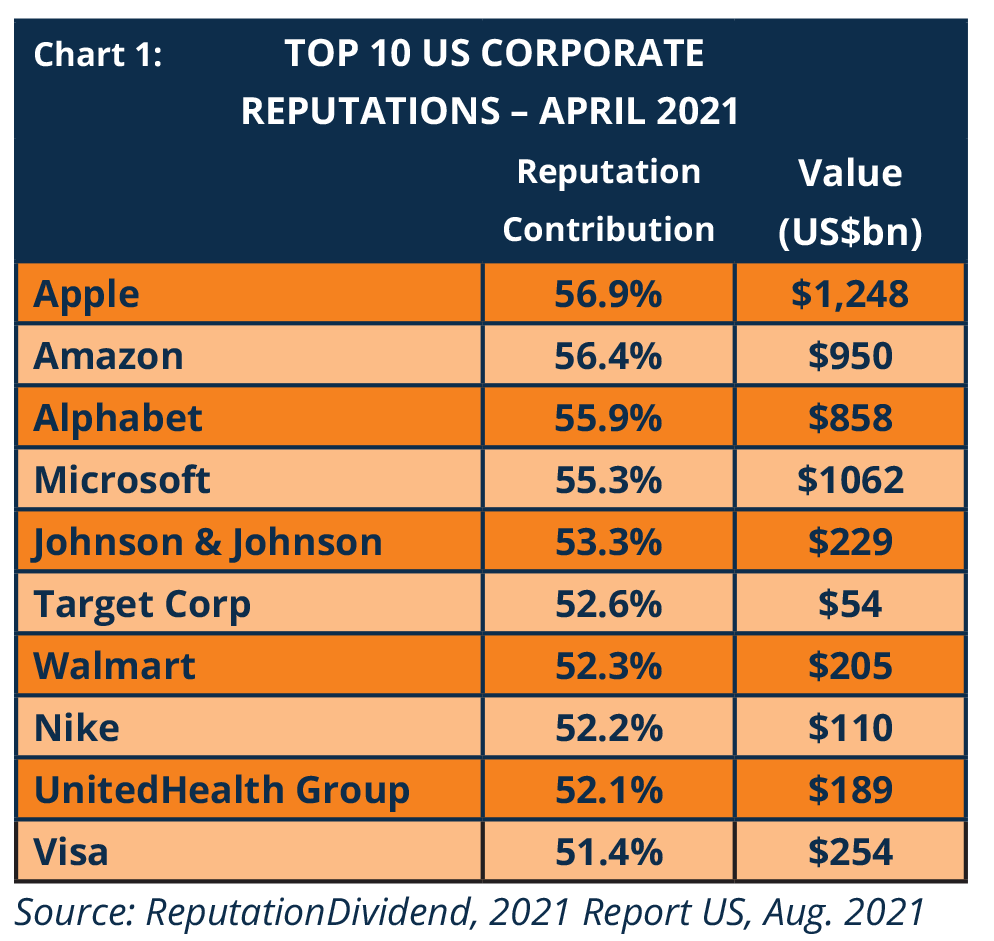 The top 10 companies by RC are shown in Chart 1. RC is responsible for 55 percent of market cap for these companies, a significant amount.
However, for all companies in the study, the figure was 30 percent, again not an inconsiderable figure.
Chart 2, below, delves into the complexity of corporate reputation and shows the nine factors. The chart contrasts where each driver of reputation stood in Jan. '21 vs its Dec. '21 forecast. As you see, of the nine, long-term value was the leader, with people management in second place. While CSR gained, its influence on reputation is on the lower end.
Another look at reputation, one that reinforces some of ReputationDividend's research, comes from a Signal AI survey of 1,000 C-suite leaders.
Issued Feb. 8, one of its major takeaways is that 72 percent of C-suite members believe that within five years reputation will overtake profit as a driver of business performance (see Chart 3, p. 7).
Reliable Reputation Data
On the other hand, Signal AI says the C-suite is frustrated with a lack of reliable reputation data. Half of those it surveyed believe at least 25 percent of revenue is lost, owing to an inability to gather reputation data.
"If applied to the Fortune 500, a minimum of $3.5 trillion in revenue is lost by the inability to harness data around reputation," the study says.
Before improvements in measurement technology it was "almost impossible to measure how an organization's reputation was perceived in relation to a broad topic like climate change" or DEI, David Benigson, Signal AI's CEO and co-founder, tells us.
In addition, "there was no way to measure how perception had shifted more broadly or how associated a company was to a topic, and therefore no way to show if a communication campaign had been successful." Communicators had to rely on media clippings, "which only tells some of the story," he says.
One of the reputation measures Signal AI tracks is ESG. Nearly all (92 percent) the C-suite members surveyed see ESG influencing reputation in 2022.
On the other hand, there might be a disconnect. An Arketi survey of purpose and the marketers tasked with conveying it shows 45 percent concede ESG is starting to come up in conversation.
Yet 63 percent either don't have an ESG strategy or know if their company has one. What makes this worse is half of those marketers are supposed to be promoting their company's ESG vision, strategy and performance.
Purpose and Crisis
The connection between corporate purpose and crisis is clear.
"When properly defined, a company's purpose can serve as its North Star and guide how leadership views immediate or emerging issues and responses," Arketi VP Erica England, APR, says. "Further, when employees are invested in the why behind their work, it helps curb employee dissatisfaction, which can be a leading cause of crisis."
Linking back to reputation, the Aketi study draws a direct connection between reputation and purpose. A total of 40 percent of the marketers surveyed say the second-best benefit of having a defined purpose is a positive corporate reputation.
Yet purpose may be as elusive as reputation. 30 percent say the largest hurdle with purpose is communicating it in a way that resonates with employees.
The second-largest issue is connecting purpose with the bottom line and business objectives. Still, 100 percent of marketers see a connection between purpose and financial performance.