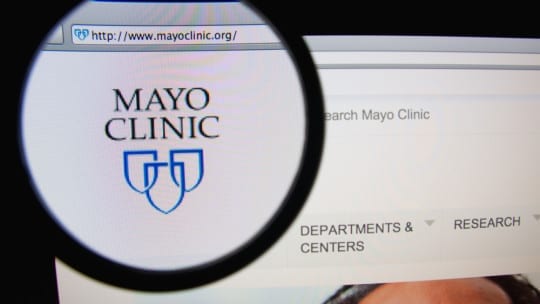 Connections and conversation. Those are the core benefits—the "true magic," Colleen Young would say—of online patient communities. It makes so much sense: a social media forum of patients tapping into others with similar conditions and concerns, and sharing what they know to help others. But setting one up is easier said than done.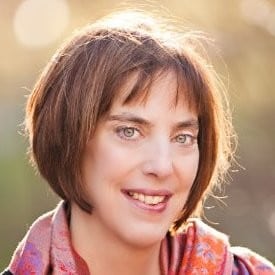 Colleen Young knows a thing or two about online patient communities. As online community director for Mayo Clinic, she is internationally known for building patient communities that thrive. At Mayo Clinic Connect, Young has orchestrated a virtual community connecting patients to each other and to Mayo Clinic medical expertise. Her sentinel paper on Community Management That Works: How to Build and Sustain a Thriving Online Health Community is widely cited in online health communications literature.
Young will be participating in a session at the upcoming Healthcare Social Media Summit Oct. 23 in Baltimore entitled "Building Online Patient Communities With Social." She previewed her panel in this recent Q&A.
PR News: What do online patient communities need to do to succeed, and what are some common obstacles?
Colleen Young: To succeed, a community needs to be a safe space that welcomes open and honest discussions. Conversations create connections and deepen the sense of community among the members. As people share more about themselves, they connect with others and build circles of trust. When members share personal health experiences, they often find they are not alone. This reduces their sense of isolation and leads to people improving the self-management of their health and well-being and strengthening their ability to advocate for their care.
There are several common mistakes organizations make when setting up an online patient community:
They don't engage patients first to find out what they want in a community.
They focus on (and invest in) technology, but not on strategic community management.
They create content. Producing articles or blogs creates a community of readers and doesn't encourage connections and conversation.
PR News: Why are some organizations in the healthcare field hesitant to start online patient communities?
CY: Few hospitals or treatment centers host online patient communities. The hesitancy lies in the fear of misinformation and monitoring for bad behavior. At Mayo Clinic, we believe that hosting patient and family caregiver conversations on Mayo Clinic Connect affords us the opportunity to monitor conversations and course correct the shared information if necessary.
Connect's value is its conversations. Not every statement made by members on Connect is true. By allowing people to express what they understand to be correct or perceive to be true enables members, mentors, moderators and providers the opportunity to calibrate the misunderstandings and debunk popularly held myths through conversation. Research has demonstrated the course-correcting or self-policing nature of online communities, providing they are active, moderated and respectful behavior is modeled.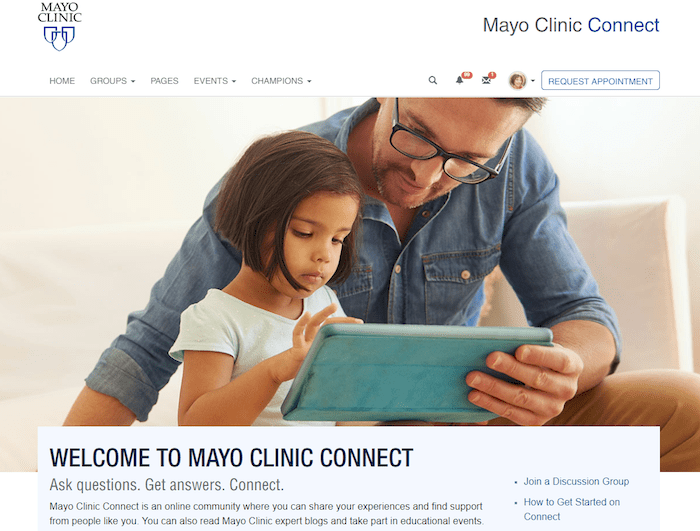 PR News: What are the keys to managing and maintaining it for continuing optimum success?
CY: I still refer back to the paper I wrote in 2013, Community Management That Works: How to Build and Sustain a Thriving Online Health Community. I wrote this instructional guide precisely to help organizations understand what it takes to conceive of, establish, and manage and maintain a successful online community.
Communities are a long-term project and should not be executed like a campaign. They require constant maintenance. Organizations need to evolve with the community and seize opportunities that the membership provides.
With Mayo Clinic Connect members, we have co-created patient education materials with and for patients, conducted participatory research, solicited input on service delivery improvements and improved patient experience at Mayo Clinic. I look forward to talking about those projects at the Healthcare Social Media Summit.
PR News: What are the primary roles of the group manager?
CY: They vary, and depend on the stage of the community: inception, establishment, maturity or mitosis stage of its life cycle. At first, the community manager focuses on growth and activity. Growth without activity is useless, thus the community manager's startup tactics should be laser-focused on motivating the founding members to post, connect and return to post some more. No small task.
As community activity reaches a steady and growing level, the community manager can dedicate time to recruiting new members. Then, of course, there's the task of monitoring all discussions, keeping members engaged and safe, and modeling behavior so that the conversations remain respectful and inclusive.
And for longevity within the organization, the community manager has to inform stakeholders of their organization about what is happening in the community and align it to the strategic priorities. Framing the community as a big opportunity that people up, down and across the organization can be proud of ensures the community's sustainability.
PR News: What are the keys to getting internal buy-in for community building and how do you measure results?
CY: Don't think of your community as an isolated project, but demonstrate that it is a strategic pillar supporting the organization's overarching priorities. We measure results that demonstrate the community's value. For us that means focusing on retention rates and meaningful conversations. We collect stories about how Connect helps people improve their health and well-being, their self-management of chronic conditions and how it increases their capacity to partner in their care. We also report how various departments have partnered with Connect to advance their goals, like the patient experience nursing team of the Epilepsy Monitoring Unit.
PR News: How do you select the right topics for discussion?
CY: You don't. Community members start conversations that are meaningful to them. My goal is to give members the confidence to post topics for discussion.
PR News: What have been some of the personal successes and dialogues you've witnessed through an online patient community on social media?
CY: There are so many. I'm most proud of Mayo Connect's Volunteer Mentor program—Volunteer Mentors: The Secret Ingredient for Success of an Online Community. Other successes include witnessing members helping a very anxious member get through traumatic radiation therapy or how peer support helps members set targets, report on progress and achieve their own health goals like losing weight, drinking more water or exercising regularly. Mayo Clinic Connect members inspire me.
Jim Alkon is a contributing writer for PR News and is currently Editorial Director of BookTrib.com, a website where readers discover emerging authors.