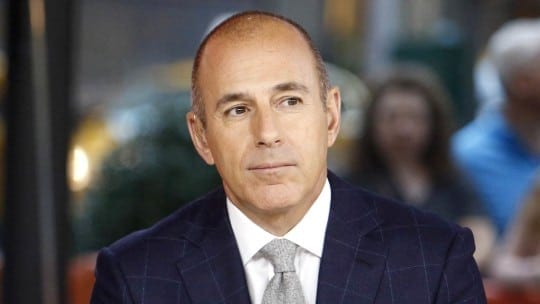 NBC News anchor Matt Lauer has been fired after sexual allegations were raised by a fellow employee, and the swift way it was announced marks a shift in the way such stories have been communicated. NBC took action before the story was brought to the news media by the alleged victim—and before a pattern of official complaints had emerged.
Earlier today, a memo from NBC News chairman Andy Lack announcing the firing to NBC employees was also released to the press, citing a complaint of "inappropriate sexual behavior in the workplace" as the reason for Lauer's termination. This comes amid a wave of revelations of sexual misconduct by public figures in the media, politics and entertainment spheres.
The memo noted that this was the "first complaint about [Lauer's] behavior in the over 20 years he's been at NBC News," but stated the organization also had "reason to believe this may not have been an isolated incident."
In several recent cases, victims have come forward with reports of sexual misconduct that went back years and even decades (Roy Moore, Louis C.K.). But according to Lack's memo, the "detailed complaint from a colleague" regarding Lauer's misconduct was brought forward on Nov. 27—only two days before the story broke.
Lauer's now-former cohost, Savannah Guthrie, announced the news live on "Today," along with Lauer's emergency replacement Hoda Kotb. While the memo was notably absent from NBCUniversal's online newsroom (though it was published as a news story on NBC News' site),  the company owned the narrative on social media, posting video of Guthrie and Kotb's announcement to the "Today" Twitter account.
Matt Lauer has been terminated from NBC News. On Monday night, we received a detailed complaint from a colleague about inappropriate sexual behavior in the workplace by Matt Lauer. As a result, we've decided to terminate his employment. pic.twitter.com/1A3UAZpvPb

— TODAY (@TODAYshow) November 29, 2017
This was one of NBC's smarter crisis response moves: It put a human (not to mention female) face on the news of Lauer's firing. Guthrie appeared on the brink of tears as she stated employees were "devastated" and "still processing" the news. Lauer's former cohost then recognized the "brave colleague who came forward to tell her story, and any other women who have stories to tell."
Guthrie and Kotb's announcement shed a light on the complexity of dealing with sexual allegations that have come out against a longtime coworker. And it mirrors questions many Americans are now asking about whether we can—or should—separate a public figure's career accomplishments from their sexual misconduct.
Follow Sophie: @SophieMaerowitz