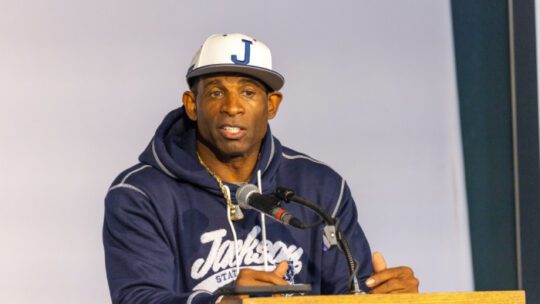 A good sports game can tug at any fan's heartstrings, but a great marketing strategy can conquer the world. Combined, they perfectly illustrate Deion Sanders' vision for a new football coach archetype that's taken the sports industry by storm.
Sanders has been serving as the head football coach at the University of Colorado Boulder since December 2022. In the ten months that followed, he guided the team through an inspiring "Cinderella story" resurrection journey that is paying off in spades both on the field and on the front pages.
With 68,536 mentions in the media over the December-September period, Colorado has generated an estimated $375 million in advertising value, meaning CU has received about $280 million in ROI in less than a season.
"Investing in Coach Prime is the greatest marketing investment I've made in 20 years," Aflac CMO Garth Knutson said of Sanders starring in the company's new ad campaign.
"We have officially broken the internet today," joked Blenders CEO Chase Fisher on the day the Sanders sunglasses collection dropped. Broadcasters are picking Colorado for their most coveted TV slots, advertisers are lining up to buy ads during his games, and brands are jumping at the chance to work with Sanders and the Buffaloes.
"What I do well and what I have a gift [for], is marketing," Sanders himself says. "It's business. We just happen to know how to put our brand forth."
Although for Sanders it all seems to stem from a natural penchant for successful strategies, we could all learn a few crucial PR and marketing lessons from Coach Prime.
Focus on What You Do Best
Sanders might not be a legendary football coach or even the best coach in college football, but he is a pro at giving people exactly what they want. "Coach Prime is the story," Fox Sports vice president Derek Crocker told USA TODAY Sports. "Just him and the energy that he brings is probably the main storyline, and it's been keeping him in the news."
The lesson? Don't try to be everything to everyone.
Instead, figure out what it is that you bring to the table, and craft your communications strategy around a strong angle, skill, personality trait, or other fundamentals of your brand that the media is going to be entertained and fascinated by.
Make sure you're centering a strong USP in your strategy, or you'll be running out of fuel before you've even sent the first PR pitch.
Be Memorable
As the only athlete to have ever played both a Super Bowl and a World Series, Sanders understands the nature of the game, both on the field and in front of the cameras.
The Pro Football Hall of Famer has been a star for over 30 years, and he's never been afraid to show off his high-profile personality. Whether in a short TikTok video, on an hour-long interview on BBC Radio, or in all the marketing materials you're shopping around, make sure to do the same.
Show people who you truly are and what you stand for. People are looking for authenticity, now more than ever, and letting your personality shine through is going to give your brand much more of an edge than hiding it ever would.
Eyes on the Prize, Not the Competition
Rival coaches have been taking note of Sanders' magnetism giving way to an unrivaled ascent to the top. They've tried to hit him with personal verbal shots and shoot down his rising star, but Sanders is impervious to controversy.
"Everything about us is designed and built to go forward," Sanders says. "I've never been a rock, an idle person. I've always been a mover and a shaker, a wave maker and a go-getter."
The very principles of what PR and marketing are all about need you to be an unshakeable go-getter, and nothing less.
Sure, markets are saturated and attention has never been harder to keep. Audiences are more demanding than ever. Authentic branding is all the rage now, but trends change at unprecedented speed.
What are industry professionals to do? Stick to a proven strategy, and don't let the competition throw you off course. Cancel out the noise, and just focus on taking your brand to the top, Coach-Prime-style.
Sanders is not simply rewriting the rules of college football marketing for himself; he's paving the way for the whole industry, one calculated move at a time. Here's where to start if you want to learn from him, and believe me, we all should.
José Suárez is Global Director of Accounts & Strategy at global communications agency XWECAN.