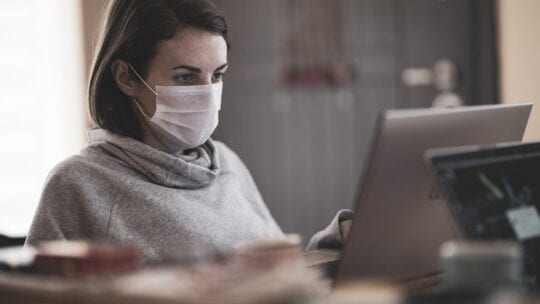 A leader of a company or organization can serve as the quarterback when it comes to delivering a positive reputation to the public. While a leader does not always handle the nuts and bolts and day-to-day details of running a brand, he/she serves as a face for employees, customers, shareholders and more. 
We live in a time where coronavirus does not discriminate. No matter where you are on the corporate ladder or systemic food chain, it can find you. We saw this last week, when President Donald Trump tested positive and fell ill from COVID-19. Since then, the virus has spread through the White House and top offices in the nation's capital, leaving the public with a great sense of concern and some confusion about what is happening.  
The same thing can occur on a corporate level or with celebrities. We have seen highly-regarded names and public figures like actor Tom Hanks, New England Patriots quarterback Cam Newton and Harvard University president Larry Bacow test positive for the virus. How an organization decides to communicate this information, and who will serve as a temporary spokesperson or leader is of utmost importance. We talked to communication professionals on how to proceed when leadership falls ill. 
Transparency, Transparency, Transparency
Almost every practitioner we talked to first mentioned the utmost importance of transparency. Dan Levitan, EVP of the of the tech and innovation practice at BerlinRosen, said transparency goes hand-in-hand with earning the public's trust.
"There is a balance between privacy of individuals and transparency...so the communications challenge is talking about what is [really] happening with the CEO," Levitan said. "A general rule for engagement here is to be transparent and forthcoming. Not doing so will really damage your reputation and brand, internally and externally. Focus on the health and safety of the leader and the rest of the staff." 
Flame Schoeder, an International Coaching Federation-credentialed life coach, agreed about providing certainty through information. 
"In this current environment of uncertainty, the human brain needs information it can rely on in order to feel safe," Schoeder said. "The more certainty you can put into your communication, the more comforted and reassured people will be." 
Facts Not Fear
In addition to transparency and truthfulness, solid facts and information can provide the public with a greater sense of ease. Lana McGilvray, co-founder and CEO, Purpose Worldwide, said leading without facts causes not only the public's, but employees' minds to wander. 
"In the case of the current pandemic, now is the time to make sure that baseline plans and redundancy messaging are still valid, will comfort and are operational," McGilvray said. 
"Truthfulness, as always, is most important. Provide facts versus speculation. Facts are the only antidote to disinformation and have the power to calm and assuage, even in the worst of scenarios." 
Schoeder agreed and said that the effects of a leader contracting COVID-19 can be enormous—not just physically but mentally and emotionally. 
"As you address the impact, take into account people's fear," Schoeder said. "Every person is facing a unique scenario of how it could impact them, so don't assume that you know. Obviously, you will need to address the processes and procedures that you've implemented to respond, but most people need more emotional support than another lecture on hand washing. People need to know that it is safe to make the choices that are right for their circumstances. They need to hear that their jobs are safe (if they really are), or what they can expect in the coming days and weeks (if the future is unpredictable). Be as clear and truthful as possible, as this will engender trust even if the situation is not optimal."
Internal Communication
One of the most urgent needs after a leader falls ill is to inform staff. With COVID-19, knowledge can offer a path to health and safety. Transparency surrounding a leader's illness is paramount for employee trust, Levitan said.
"You can update [staff] on when the person became aware of illness, and the steps taken since then, their current health, the steps being taken internally for those who may have come in contact, and any sort of immediate impact on operation of organization," Levitan said.
"Communicate steps to make staff safe. If someone has contracted COVID inside the workplace it might be appropriate to say you are 'conducting a review of workplace safety steps,'" Levitan added. 
Schoeder noted the importance of choosing the right temporary spokesperson for staff communication. 
"Take into consideration which leaders are already well-respected as truth tellers and as being reliable," Schoeder said. "These may not be the most natural public figures, but they can add a tremendous certainty to the situation. You want to choose someone who is skilled at balancing both the hard facts of implementing the process of COVID-19 response along with the soft skills of expressing genuine care and concern."
Have a Leader Plan
Of course, while COVID-19 blindsided many, if organizations have learned anything from the pandemic it is to have contingency plans—particularly when it comes to illness. 
Scott Dobroski, senior director of corporate communications at Glassdoor, has been thinking about this during the pandemic, and what preparation means for a company. 
"Having a plan, paired with transparency is key," Dobroski said. "What this means is you want to be transparent, but you also want to have a plan in place to keep people informed on who is filling their shoes, or if a mix of individuals are taking on certain roles in the interim. Having a plan like this should be work a comms pro does well in advance of ever needing it."
And Dobroski noted that this plan doesn't just have to exist for a pandemic, but for any situation that takes the CEO out of commission.
"If a CEO is out for several months, who is back-up on CEO or executive decisions?" Dobroski asked. "Do different members of the senior executive team play different roles? This is something a comms pro should work on, with their leadership team, well in advance of ever needing it. Then, if the day comes where something happens, you have scenario-planned and have different options to fall back on. And, yes, this extends beyond just the top leader like a CEO, but should be done for key leaders across an organization too. Scenario planning paired with transparency will pay dividends if or when this situation arises for any comms pro."
Nicole Schuman is a reporter for PRNEWS. Follow her @buffalogal