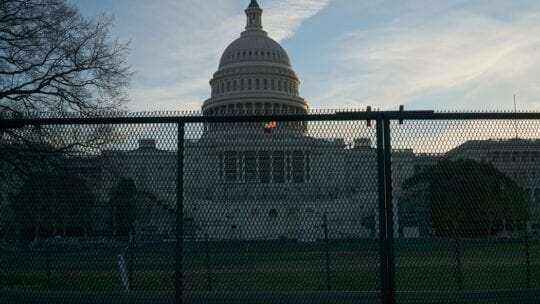 Correction: 11:45am, Jan. 12, 2021: D.C.'s Metropolitan Police hosted a press conference at 4:40 p.m. ET, Jan.6, not 11 p.m. as previously reported. The press conference included the D.C. Mayor, the Metropolitan Police Chief, the D.C. Fire Chief, the Acting Director of Homeland Security and Emergency Management and the Secretary of the Army. The police also released updates, including videos and daily press briefings via social media. In addition, it pinned a tweet that includes a thread of timely, pertinent information. The FBI was scheduled to brief the press this afternoon.
Due to the significant interest for information related to the incidents in and around the US Capitol, this thread will be updated with pertinent information. pic.twitter.com/docEDp7ZcQ

— DC Police Department (@DCPoliceDept) January 7, 2021
As top law enforcement officials continue to receive questions about last week's chaos at the Capitol, one thing has become clear: Much of the violence was preventable.
On Jan. 8, Steven D'Antuono, head of the FBI's Washington Field Office, told the press, "There was no indication that there was anything [planned] other than First Amendment-protected activity."
Yet, a Jan. 10 NBC News report found that law enforcement groups, including the NYPD and FBI, attempted several times to warn Capitol Police about the likelihood of violence, sharing social media posts as evidence. The Capitol Police appear to have downplayed the intelligence, until it was too late.
D'Antuono's statement, which is either a fib or a comment made before receiving the full story from staff, illustrates the importance of transparency from minute one of a crisis. With the national press on the scent looking to uncover every point of failure, minimizing, omitting facts or speaking without confirming facts are the last things law enforcement should be doing from a crisis communication perspective.
Prompt Response
John Guilfoil, principal of John Guilfoil Public Relations, works exclusively on PR for municipal agencies, including law enforcement. He says there's one "common denominator" when media coverage becomes very negative quickly around an event involving law enforcement: The police department did not communicate early or frequently enough as the situation unfolded. "What we teach police departments is there's a golden hour to get in front of a crisis—after that, you're just playing catch-up," he says.
A Jan. 10 Washington Post article chronicles what it was like inside the Capitol as the violence escalated. The Post, in talking to lawmakers and staff, found "Capitol Police Chief Steven Sund had assured House and Senate members that his force of 2,000 officers could handle the large expected crowds, according to multiple people who spoke with Sund in the days leading up to the siege." (Sund has since resigned.)
Amid the chaos, local law enforcement is leveraging another misguided messaging tactic: the blame game. A Jan. 8 D.C. Police Union press release passed the buck to Capitol Police, blasting the group as "ill-prepared." While evidence thus far supports the claim, investigations continue to uncover missteps at the local and federal level. This makes the blame game an ever-riskier one to play, as PRNEWS' Nicole Schuman wrote in her coverage the same day.
But the Capitol Police should have gotten ahead of the crisis long before protests gave way to insurrection. Guilfoil notes that PR must be part of incident planning—even if the Capitol Police underestimated the manpower needed, it should have had a coordinated public information effort ready.
Guilfoil adds that municipal agencies like the Capitol Police, which fall somewhere between federal, local and state jurisdiction, are "low on the pecking order" and often underfunded when it comes to PR.
Still, Guilfoil's postmortem suggestions for communication planning would not have been cost prohibitive. Capitol Police would have done much better, he says, had they: 1) predetermined a frequency of press releases and tweets throughout the protest 2) named a reachable spokesperson and 3) executed on this planning, with social media updates and a spokesperson made available to the media and lawmakers throughout Jan. 6. To do so, he adds, Capitol Police should have responded on social media (and via press releases) before, during and after the event. In addition, having multiple press statements ready per hour—however short—can be the difference between a communication gaffe and full-blown crisis.
The Capitol Police, the FBI officials under D'Antuono and the Pentagon, which was slow to deploy the National Guard—in part due to public outcry over the National Guard's harsh treatment of Black Lives Matter protesters during the summer—now face ongoing reputation crises.
There is more than a little irony in the fact that the Pentagon's hesitancy to call in the National Guard early on Jan. 6 stemmed from concern over public sentiment, per a New York Times account from Representative Elissa Slotkin of Michigan. If anything, showing restraint in this case left law enforcement leaders exposed to widespread claims of a double standard in policing protests.
In any case, the media continues to report there was extensive intelligence sent to Hill police about what to expect Jan. 6 and it was ignored.
As lawmakers who received false assurances from the Capitol Police that the matter was well in hand begin to launch internal investigations, further attempts to muddy the facts will be met with increased distrust from the public, calls for more resignations of top officials and legal action.
The PR takeaway is clear as day: Be transparent and available at the outset of a crisis to avoid death by 1,000 cuts later.
The likely best path forward for communicators and spokespeople in the cross-hairs is to tell the truth, own mistakes, and explain how such a tragedy can and will be avoided prior to Inauguration Day and beyond.
Before sharing facts transparently and honestly, however, the Capitol Police and top security officials in Washington need a pulpit. Yet, besides the Metro Police presser Jan. 6, there has been no public press briefing on the violence, notes The New Yorker's Susan Glasser.
Why has there not been a single public press briefing on the investigation of the Capitol insurrection and plans to keep Washington safe for the inauguration?

— Susan Glasser (@sbg1) January 10, 2021
The House Judiciary Committee is calling for the FBI and the acting Homeland Security chief to hold a news conference about the events of Jan. 6. But if a press conference is not held soon, D.C. Police and Capitol Police may be well-served by making themselves more available to the public with more briefings of their own. All law enforcement powers that be need to be transparent now, or eventually the truth will come out—and it won't be police leaders providing the narrative that history remembers.
Sophie Maerowitz is senior content manager for PRNEWS.