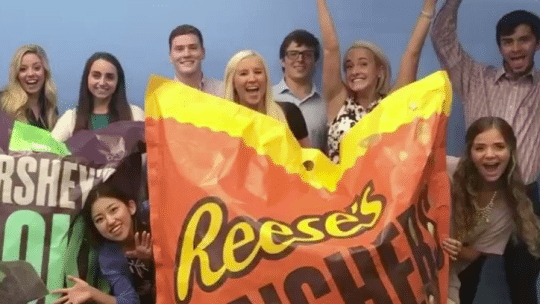 If you're looking for a multiplier effect on your brand's content, look no further than your workforce.
The Hershey Company, like a growing number of brands, is embracing employee advocacy programs as a way to pull back the curtain on life at the company, helping to improve recruitment, retention and reputation.
The giant chocolatier has devoted an Instagram account (@HersheyCompany) to celebrate its employees, who in turn use the platform to celebrate the company by showing what it's like to work there. The combination of photos, videos and Boomerangs with the hashtag #ImHershey and #HersheyLife has extended the brand's reach far beyond traditional content marketing tactics in a fun, engaging way.
Notice how the brand uses captions in the employee's own voice, adding an extra level of authenticity and personality to the posts. Using the #InstaTakeover format has earned Hershey around 1,000 likes for each post, and 174,000 followers. 
Do you want to encourage your employees to be brand advocates? Here's an excerpt by Michelle Jamieson from Green Door Solutions, who shares some best practices for employee advocacy in The Book of Social Media Strategies & Tactics.
---
Want to learn more from The Hershey Company? Join Hershey's Anna Lingeris at PR News' The Digital Communications & Marketing Show, Oct. 17-19, 2017.
---
Clearly define what "being social" means within your brand. Create employee guidelines and policies that outline how to effectively and safely participate in the online conversation within the brand's standards.
Create a positive environment where being "social" is encouraged. Demonstrate through key leaders in the business that being "social" is accepted and encouraged. When employees feel confident that they are able to express themselves in this way and know how to communicate the brand online, they will more likely be engaged and work effectively to be a vital part of the online conversation.
Develop training sessions that will highlight best practices for effective social contributions. Training is also an opportunity for recognition and further engagement of employees who are performing well in regards to their participation in the online conversation. Information-sharing sessions can be a great way to make employees feel like a vital part of the organization as well as allow for up-to-date product/service information to be shared with employees, in the hopes that these details and updates will then be shared online.
Provide feedback and reports about how effective "social" employees are on a regular basis. Positive reinforcement for a job well done will encourage those involved to continue to succeed and can encourage others to become involved. Review the programs and the process in which you are engaging your employees to be "social." This will allow you to better incorporate employees into the larger conversation and the overall marketing plan.
Connect with Samantha: @samantha_c_wood