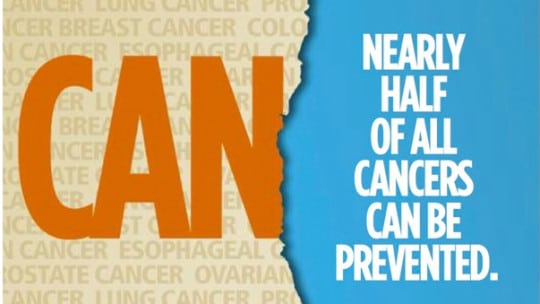 Diet, exercise and weight loss have been hammered into the American consciousness for years, so generating any kind of excitement or interest in these important lifestyle habits can be a daunting task. Perhaps surprisingly it's still challenging when getting your health in order has the incredible effect of reducing common cancer risk by 50%.
This was the challenge that the American Institute for Cancer Research (AICR) faced when it orchestrated a brand refresh to try and have a more emotional impact on its audiences. After 30 years as the authoritative voice for the science of cancer research, the AICR wanted to balance its already heavily intellectual external communications with a greater focus on creating an emotional connection.
To help it accomplish this goal, AICR teamed up with the Williams Whittle agency to develop a comprehensive campaign around a new slogan and PSA: CANcer PREVENTion—Together We Can. The partners folded social media and traditional media relations into the program as well to give their work the largest possible audience.
The statistics that the AICR and Williams Whittle worked with were jarring enough, but the data's real strength was in its potential for empowerment. Instead of focusing on the potential ramifications of having an unhealthy lifestyle, they decided to focus on how a few simple changes could radically reduce cancer risk. This simple focus on positivity turned out to be the critical factor in the partners' success.
AICR regularly uses infographics to communicate fast facts about cancer prevention. The partners decided that this kind of visual style was the best way to design the PSA and supporting materials to showcase how easy it is to make changes in your life to prevent cancer. Using bright, attractive colors and fun graphics made the content easily digestible and appealing to a brand audience.
By the end of the summer, the PSA earned more than 30,000 airings on national and local networks like CNN, ESPN, FOX News and Lifetime. Print versions of the PSA also appeared in outlets like Time, Food & Wine and Oprah, reaching a total print audience of more than 1 million. The CANcer PREVENTion campaign helped to double the American Institute for Cancer Research's followers, likes and shares on social and drastically increased traffic to its website. The partners also received a PR News Nonprofit PR Award for Public Service Announcement.
Follow Mark: @MarkRenfree