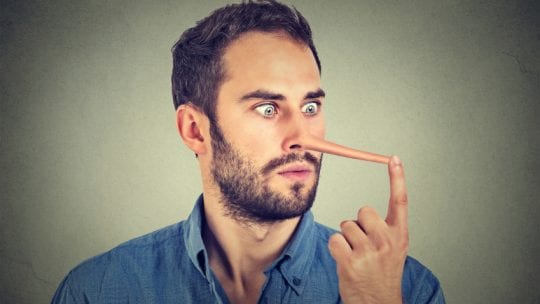 There are variations on a quip attributed to George Burns, and many others. We'll paraphrase: 'Life is all about honesty…once you can fake that, you've got it made.'
Seriously, every PR pro we chatted with about this post, for National Honesty Day (April 30), had the same response to the levity above: 'It's a good joke, but the truth is it's impossible to fake authenticity for very long.'
Back when PR pros spent a lot of time on airplanes, pitching specialist and communicator Michael Smart found himself on a flight next to a professor with a PhD. When she discovered Smart was in PR she responded, "Public relations...and truth...can they go together?"
That reaction, from an educated person, is not a surprise or atypical, unfortunately. PR pros know it's bunk and that they must protect the profession's integrity vigilantly. Most do; witness then-PRSA chief Anthony D'Angelo blasting former White House communicator Hope Hicks' white lies. Reading columnist Virginia Heffernan's account of the Hicks incident–"Lying to the media is traditionally called PR"–also irked D'Angelo and many communicators.
The Battle
Yet the battle continues daily. Even on Honesty Day. There are plenty of dishonest messages circulating and unscrupulous activities occurring. PR is involved in some of them.
That's why Smart's retort to his co-passenger was spot on: "Truth is the only public relations that endures."
If you find yourself mixed up with people who encourage you otherwise [that honesty is not PR's best friend], then it's time to make a change. Not only will subterfuge and manipulation eat away at your soul, it flat out doesn't work in the long term. People may never...say, 'I don't trust you anymore.' But you'll find your personal network shrinking. You'll notice fewer invitations and...opportunities dry up.
Adds Daniel Rene, managing director at kglobal, "Those of us who've decided to make a career out of public relations know you can't last if you don't tell the truth. Dishonesty has no place in our industry, in our relationships or in our society," he adds. "Trust really is the only asset in our business."
As we talk with Rene, it's clear what he means. He admits there are degrees of honesty. For example, two candidates can debate an issue. Each believes, honestly and deeply, her version of reality is the truth.
More than that, it's the PR pro's job to draft talking points for the debaters that emphasize the positives in each candidate's position. So, the PR pros omits points that hurt his candidate's cause. Is that dishonesty? Is it lying?Not according to Rene.
"It is perfectly acceptable to argue a position passionately; however, lying will never persuade," he says.
Memory Loss
Beyond morality, there is at least one practical reason for honesty.  "No one has a good enough memory to be an effective liar for very long," Rene says, "but the memories of those deceived are forever."
Mark Twain said it well, "If you tell the truth, you don't have to remember anything."
And honesty is part of the foundation for building trust and relationships. And PR, as we know, is a relationship business. "In media relations…honesty must be the number one currency for any company, brand or business," says Chris Hamilton, SVP, media relations, at Current Global.
Honesty has other upsides in media relations. Says Smart, "Although it's harder than ever to break into the news, it's way easier than it used to be to get repeat coverage. Journalists are stretched so thin that when they find you to be a trustworthy source, they come back again and again."
GW and Honesty Day
Not ironically, Honesty Day is the invention of a media relations specialist. Hirsh Goldberg, a former Maryland press secretary, 'birthed' the holiday to expose lying in politics and consumer relations, among other things. It's celebrated April 30 to contrast with April 1, April Fool's Day.
Moreover, a second reason for its celebration day is that George Washington–who couldn't lie about a downed cherry tree–was inaugurated as president on this day, in 1789, in NY. 
But honesty goes beyond serving as a foundation for building bridges between PR pros and journalists. It's critical to PR crisis. Indeed, when a company is hit with a PR crisis, the prevailing wisdom is that it communicates openly and honestly, admitting its mistakes promptly and apologizing.
Honesty covers all PR relationships, including those between companies and agency PR pros.
Moreover, honesty and trust are "vital currency for an agency PR pro," says Barry Finkelstein, SVP/director of PR, at Luquire in Charlotte, NC. "It's absolutely critical in your relationships with those you represent and your co-workers," he adds.
Disinformation
There's also trust and honesty between a company and its consumers. "As a former journalist, it is easy to spot when a brand is being disingenuous," Hamilton says. "But the modern-day consumer is savvier than ever…getting their information from multiple social platforms and online publications."
That the consumer is savvier is a good thing as disinformation and misinformation spread. We trust consumers will pick up the challenge, hopefully that communicators throw down, to spend a few moments before sharing information on social. It's one way to 'stop the spread' of disinformation, the sworn enemy of honesty.
Indeed, it's not a small irony that this business week, which concludes with Honesty Day, began with the outing of a bogus story. A NY newspaper trumpeted a story that VP Kamala Harris's children's book was included in a slew of government-provided welcome kits for immigrant children at the southern border.
Not only was the story retracted–too quietly, some critics contend–but, in a triumph for honesty, the reporter, who claims she was forced to write the false story, resigned.
Also today, on Honesty Day, Newsmax issued an apology to Dominion Voting Systems employee Dr. Eric Coomer for spreading bogus allegations against him. The news service admitted it made false statements about Coomer as part of stories alleging the 2020 presidential election was stolen from then-president Trump. Coomer is suing Dominion, though it's unclear whether or not the apology is part of a settlement of the lawsuit.
With distrust flowing around politics, Goldberg's Honesty Day seems prescient. Incidentally, each April 30th, he presents honesty awards to companies and individuals. This year, honest to form, Goldberg's called for a moratorium on lying and fraud.
Seth Arenstein is editor of PRNEWS and Crisis Insider. Follow him: @skarenstein