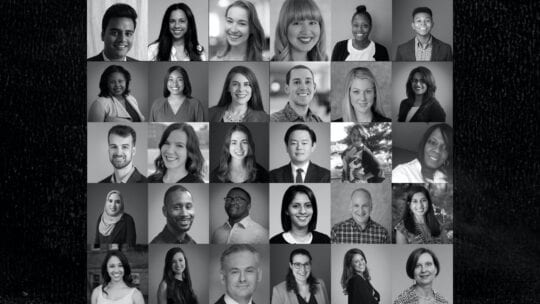 Earlier today (April 20), PRSA debuted Voices 4 Everyone, an online resource addressing a quartet of PR issues: misinformation/disinformation, DEI, civility and civic engagement. A collection of articles, case studies, videos and other material, 'Voices' is true to its name: it's available to PRSA members as well as the general public.
PRSA will update the content "almost daily," PRSA chair Michelle Olson said in an interview. Content includes original material as well as curated posts
In addition to posting staff and PRSA committee content, "We're looking to crowd-source material from PRSA members," she said. Members will receive bylines when their material runs. In addition to the earlier-mentioned case studies, content categories include best practices, how-to's, listicles and trends, among other things, she added.
Staff and PRSA subcommittee members are vetting submitted content. PRSA wants to add representative voices to the editing function, including educators, agency members and brand communicators. The goal is to feature "the best of the best" content, Olson said.
Proactive Approach
Voices represents a more proactive approach to issues than PRSA's previous reactive methods. Traditionally, the group reacted to events and issues with statements and periodic earned media. Last year, though, Olson's predecessor, T. Garland Stansell, and the PRSA board tasked its Advocacy Committee to develop tactics to advocate for the profession. The committee's response was Voices, she said. "So, [Voices is] how we think we should move into the future of advocating for our members" in areas "they need help with now."
Olson described Voices as "the most robust member benefit we've created since" she joined PRSA, in 1988.
A glance at the misinformation/disinformation tab this morning revealed six subgroups:
social media
thought leadership
learning
media literacy
inoculation (including five-minute 'games' designed to inoculate communicators and build their resistance against spreading disinformation and misinformation) and
research
'Flatten the Curve'
In addition to the games and articles were several webinars, including a Sept. 2020 session from the Institute for Public Relations and one from San Diego State University about PR combatting dirty disinformation. PRSA member Barbara Cosio Moreno was its host.
In another section of the tab, a checklist urged visitors to always stop for five minutes before sharing content. The section's approach included pandemic-like terms such as 'flattening the curve' and 'slowing the spread' of disinformation.
The other content-rich tab, or pillar, was diversity & inclusion. Similar to the disinformation tab, it contained six subcategories: programs, thought leadership, learning, get involved, toolkit and resources. A D&I toolkit is available in English and Spanish.
PRSA is talking about adding a 'Return-to-Work' tab to Voices as a fifth area, Olson said.
The point of Voices, she said, is to help communicators, in and out of PRSA, navigate during "this moment of chaos…we've got problems [in America and elsewhere] with these four pillars…civility is at an all-time low, diversity is being discussed constantly, thankfully…and communicators, if they didn't push their organizations to be diverse, need tools to know what to do. So, we thought it was important [for all communicators] to have access to this material now."
She added, "It doesn't mean it will always be this way (public-facing), that's the way it is today."
In Dec. 2020, PRSA confirmed to PRNEWS that it was preparing to launch an effort to raise awareness about and combat misinformation/disinformation. Beta versions of the site went live during the last week in February, Olson said.
Seth Arenstein is editor of PRNEWS and Crisis Insider. Follow him: @skarenstein