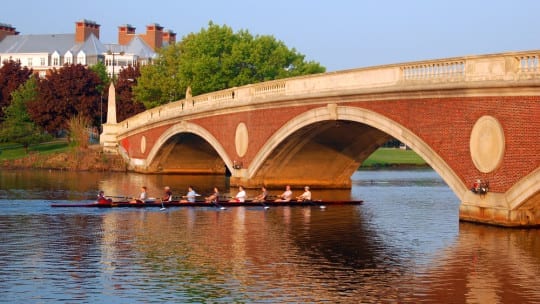 Colleges barely have begun holding classes for the new fall term, yet several institutions of higher learning were busy making news this week. School communicators had anything but a slow pre-Labor Day.
On August 29, the NCAA cleared Michigan State University's (MSU) handling of the Dr. Larry Nassar situation. In a court in January, it was proved the MSU team doctor sexually abused hundreds of female athletes. He was sentenced to life in prison. The NCAA also investigated sexual assault allegations against members of the MSU football and men's basketball programs.  MSU was cleared on those incidents, too. The lesson: investigations, a hallmark of crisis management, aren't enough.
Meanwhile, the University of Maryland (UMD) is a school divided. It's about to begin the football season with its head coach on administrative leave pending an investigation into the death of Jordan McNair, a player who collapsed during practice May 29 and expired two weeks later. In mid August, after weeks of silence, the school accepted full moral and legal responsibility for the death. UMD also was silent in its communication with students.  University president Wallace Loh waited until the first day of classes this week to send a letter to students.
Race and Discrimination
A third incident, at Harvard, likely will be watched more closely than the other two cases. It involves affirmative action, a controversial legacy of the civil rights era.
This week a group of Asian-American students sued Harvard, claiming its affirmative action policies discriminate against Asian-American applicants. The policies, the group says, result in Harvard capping the number of qualified Asian-Americans applicants so it can admit students of other races, such as Latinos and African-Americans. The Asian-American group contends Harvard accepts less-qualified applicants from these other races. As such, the group, Students for Fair Admissions, argues Asian-American applicants are being held to a higher standard.
The group, in its court filing, claims Harvard uses "a personal rating system" that hurts Asian-American applicants and "may be infected with racial bias." The school "engages in unlawful racial balancing; and has never seriously considered race-neutral alternatives...to make admissions decisions."
Late this week the Justice Department put its weight behind the Asian-American suit, arguing Harvard has failed to show its admissions policies do not put Asian-Americans at a disadvantage.  Several states ban public universities from using affirmative action.
Harvard's Reaction
Harvard's August 30 statement illustrates the delicate nature of college admissions in 2018. Race is part of the admissions consideration, yet Harvard and other schools contend they don't discriminate against applicants based on it.
"Harvard does not discriminate against applicants from any group," the school's statement says, but it "vigorously defends" its "legal right...to consider race as one factor among many in college admissions, which the Supreme Court has consistently upheld for more than 40 years."
It continues, "Colleges and universities must have the freedom and flexibility to create the diverse communities that are vital to the learning experience of every student, and Harvard is proud to stand with the many organizations and individuals who are filing briefs in support of this position today."
The other seven Ivy League schools, and nine other private universities, filed briefs in favor of Harvard's position to use race as a factor in admissions decisions. They remained silent, however, about Harvard's personal rating system.
Harvard defends its system, saying, "We are deeply disappointed that the Department of Justice has taken the side of...Students for Fair Admissions, recycling the same misleading and hollow arguments that prove nothing more than the emptiness of the case against Harvard."
A trial is set for October. Its result could reverberate throughout the nation's collegiate system.
Seth Arenstein is editor of PR News.  Follow him: @skarenstein