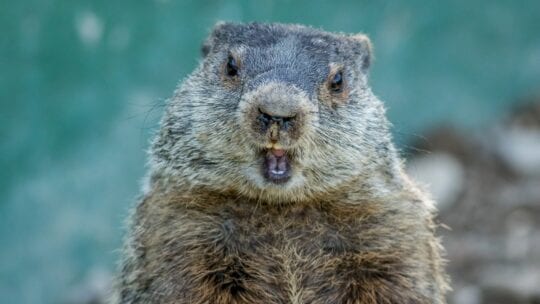 In 2021, people usually think of Groundhog Day one of two ways. 
The first: an annual tradition, dating to 1887, in Punxsutawney, Pa., where villagers whisked a sleepy fur ball out of hibernation to predict the remaining length of the winter season. 
The second: part of the modern lexicon in which "Groundhog Day" means experiencing the same day, repeatedly, in reference to the theme of the 1993 film of the same name. In the film, a despondent weatherman wakes every morning to relive Feb. 2, until he finally achieves spiritual fulfillment. 
On this Feb. 2, many people may describe their life as a "Groundhog Day." Since the pandemic hit, the days cycle through one like the next. We've lived, worked and remained in place for almost a year—adhering to stay-at-home guidelines. And much like people, brands and organizations can find themselves in a funk, putting out the same messaging year after year, which, while reliable, can lose the attention of a fickle populace. 
Examining the Source
Of course, with COVID-19, Groundhog Day in Punxsutawney couldn't welcome revelers and crowds as usual. While the town prides itself on the history and tradition of the holiday, it knew it had to adapt to the current environment for logistical and safety reasons. But some of its changes may also have garnered new audiences. 
The Gobbler's Knob celebration not only included masked handlers to present the groundhog, and cardboard cutouts to create a crowd, but it also posted a livestream on The Punxsutawney Groundhog Club page. Social platforms were available to allow those who formerly gathered on the plaza to virtually be a part of the announcement. 
And for those who've never attended? The pandemic version may have sparked a new audience and followers. 
The Club made sure to acknowledge those watching in its latest proclamation, providing appropriate messaging for the day. 
"It is a beautiful morning this I can see,
With all my fans viewing virtually.
With my faithful followers being safe and secure,
Our tradition of Groundhog Day must endure.
We all have passed through the darkness of night,
But now see hope of morning's bright light. 
When I turn to see, there is a perfect shadow cast of me. 
Six more weeks of winter there will be!"
Shaking Things Up
And it's not only the Groundhog Club that's choosing to keep messaging fresh. With one of the most high-profile visibility events—the Super Bowl—coming, as well as commercial juggernaut, Valentine's Day, some brands are emerging with surprising, and sometimes provocative, messaging, trying to avoid a Groundhog Day-feel of their own. 
OkCupid launched what some may consider NSFW (not safe for work) Valentine greetings, which will deliver punchy and occasionally risque messages to lucky recipients. A brand known for continual innovation and boldness, it looks to its audience to find inspiration. 
"The reality is that Valentine's Day cards don't reflect the kind of people, connections and love that exist today," said Melissa Hobley, global CMO at OkCupid. "Most are out of touch...and outdated. This year, connection and love are more important than ever. So OkCupid partnered with a variety of BIPOC and LGBTQ+ artists to create a collection of free digital Valentine's Day cards that are more reflective of the world we live in."
And for some traditional Super Bowl advertisers, removing the message in its entirety is their fresh move. Anheuser-Busch, home of Budweiser and Bud Light, made a splash recently announcing its donation of annual ad money to coronavirus vaccination-awareness efforts instead. In addition, Pepsi will sponsor the halftime show, instead of rolling its usual barrage of commercials. Normally saturated with car ads from the likes of Audi and Hyundai, the broadcast will feature only GM and Toyota spots this year. 
"For many brands, taking your traditional message out of the story might be a story in itself," said Caroline Ponseti, a communications strategist. "A hard pivot from what your brand typically does around an annual event can generate headlines that put your brand top of mind for consumers."
Nicole Schuman is senior editor for PRNEWS. Follow her @buffalogal