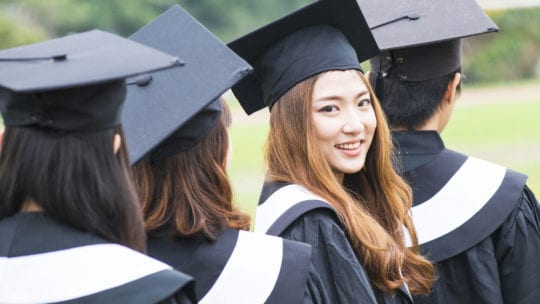 You've been enjoying a restful summer, lounging at the pool, a la "The Graduate," replenishing your energy for the job search after securing a communications degree. Or you've been in the trenches, navigating the water cooler and an earlier-than-expected 7 a.m. commute at your first post-college gig. The great news is that you graduated—an accomplishment in itself! But you may be wondering, "What's next?" or "Where do I start?"
Evaluate and promote the skills you possess 
Communications degrees supply graduates with a plethora of skills. The ability to write clearly and make cogent arguments are skills that can be valuable in almost any industry. And in the digital age, writing yields to even wider storytelling skills—such as video and email marketing, PR, journalism, content production, social media, podcasting and advertising. 
The best way to clearly broadcast your talents is with a thoughtful, well-organized resumé. An online portfolio of your work also is becoming more common, and an added bonus for recruiters. Since you graduated recently, your resumé need not be extensive—keep it to one page. Highlight internships, project work on campus, and volunteer opportunities. Employers will understand.
Attitude counts...a lot
And remember—companies are interested in your communication skills. What will set you apart, though, is your willingness to showcase excitement for the work. "Companies want candidates who show a genuine interest in the company, its culture, and, of course, the job itself," said Daniel Hernandez, a senior manager for media relations at Weber Shandwick. "If you can showcase your passion and willingness to learn, you'll be golden."
Even after you graduate, college career development centers are willing to help alumni in their job search. Dr. Deborah Silverman, chair and associate professor of communication at the State University of New York (SUNY), Buffalo State, touts gaining insight about resumés and cover letters from available resources.
"Most colleges have career development centers that offer workshops on resumés, cover letters, and job interviews," Silverman said. "Local professional organizations such as the Public Relations Society of America (PRSA), or the student's academic department, also may offer such workshops. Faculty advisors also can help, since most faculty have professional experience in the communication field."  
Think about where you would like to work
Don't apply to every job you see. Make sure to do your research on a company before pressing the send button on the job portal. What type of work environment would you thrive in? A fast-paced, start-up culture with loose structure and a lot of autonomy and responsibility (plus, usually, free snacks)? Or something more structured, where you can see a career path and trajectory, or work with a mentor? Are you more comfortable at a smaller business with an intimate team? Or is your goal to work for a global behemoth with the opportunity to travel and learn different parts of the business? 
Jason Mollica, a professional lecturer in the School of Communication at American University, says recent grads should look for two things: challenges and the opportunity to acquire skills they may not have experienced in the classroom.
"New grads should focus on the job they want right now, not the job they want three years down the road," he said. "Unless you want to run your shop, or be a consultant, you need the day-to-day experience of working with clients and co-workers as a team. You may have done some of this as an intern. That is a huge bonus. Now, focus on growing, learning and evolving as a pro." 
Tim Marks, a recruiter who has worked with the likes of MMGY and Xerox, instructs recent graduates to aim for a job in the field they want to be in, and be wary of following the money.
"If you know you want to be in sports PR or restaurant PR or travel PR, get a job as close to that industry as you can," Marks said. "If you go to work for a car company for "just a couple of years," you'd be surprised at how pigeonholed that can make you. Don't take a job for an extra $1,000...if it's not in the field you want to be in. You have a long career ahead of you and plenty of money to make."
What about grad school? 
The end of the college road may cause panic. On the other hand, graduate school can function as a warm safety blanket to prolong the comfort of academia before settling into the real world. More than 3 million students are enrolled in graduate programs in the United States, and the trend continues to increase, according to the National Center for Education Statistics.  
Some communicators believe that rolling directly from college into graduate school is not the best option. While an advanced degree is worthy, it's better to find out what kind of work you'd like to specialize in first. 
"My suggestion always is based on the individual student," Mollica said. "There are plenty of colleges and universities that offer a "3 + 1," which is a combined bachelor's and master's degree. If a student really has a drive and wants to continue their education now, by all means, you should do it."
Yet, in Mollica's experience, getting a job after graduating should be the goal. "See where your career can take you and the opportunities you'll get for learning and growing," Mollica said. "Once you have some work experience under your belt, and if you still have the itch to get a graduate degree, see which schools and programs can enhance what you have already learned in your career."