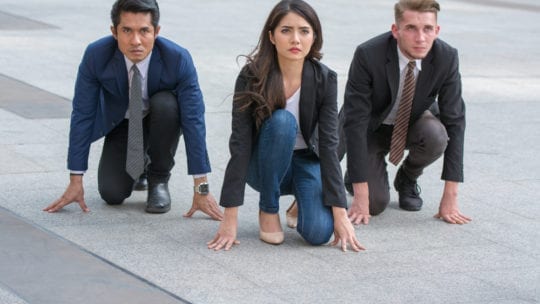 Standing out in PR, or any field for that matter, is not easy. So many times, people wonder how they can get ahead at work, while doing the least possible amount of work. Well, that doesn't happen often.
The people who get ahead actually ask for more work. That may be staggering to think about. Yes, everyone is busy. Gone are the days when people had nothing to do. Instead, take a little extra time to help, be seen, and be mindful.
Here are five ways anyone can take on more and help propel their career in PR.
'How Can I Help?'
Four simple words have never given a person so much credibility. When offering help to a boss or a peer, do so in a way that makes it clear you don't expect anything in return. Being a helper allows another person to get through a tough or especially busy time, easier. While working on a major technology account, I offered help and hopped on a plane with three days' notice when nobody else could go. From then on, the team knew I could be counted on to work hard, keep the brand happy, and deliver results.
Pitching
No matter what role you hold, you can always find new ideas to pitch. Find a way to make the brand stronger, but discuss it with your internal team first. If you're not sure where to start, try helping with a pitch for new business. While it can be a lot of extra work, there will be a good amount of relationship-building time spent with higher-ranking individuals in your company.
 Start a Blog
Many times, people will only see a person as their job title. Starting a blog shows more of your thinking and allows people to read it at their leisure. Write enough useful articles and people will start coming out of the woodwork for advice and potentially offers.
Start an Internal Program
Is there a volunteer event that makes sense? What about an office initiative to take work out of daily processes? Whatever it is, think about how the company and colleagues can be positively impacted. These extracurricular activities heighten the profiles of colleagues who make time for them. At MMS, volunteering was encouraged, but was not being utilized. Suggesting a small change to the program and re-introducing it during an internal leadership event has led to a 500+ percent increase in engagement.
Being Present
This can mean many things, like stopping by the office of someone superior, taking the meeting in-person, or even attending an easily-dismissed happy hour. It takes additional effort, of course, but being seen face-to-face holds much more weight than sending an email. Early in my career, a chance encounter during a happy hour resulted in an opportunity to gain additional business.  The conversation started about Paul Newman–yes, the actor and face of ranch dressing. It eventually led toward this person discussing his unhappiness with a campaign.
Be seen, stay focused, and be prepared to talk about anything.
Donald McLean is senior manager, global marketing & communications, at MMS