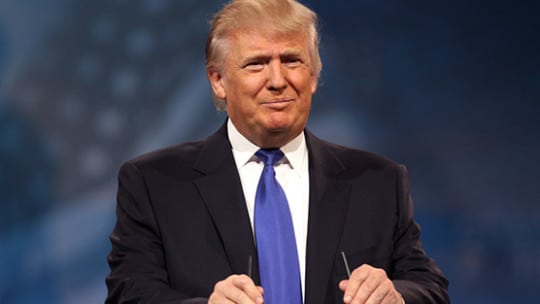 Last week, an iconic brand was forced to explain what seemed to be a typical workplace guideline. A Goodyear Tire and Rubber Company employee shared a photograph of a slide allegedly from a corporate diversity training session. On the slide were guidelines for acceptable workplace clothing. Attire supporting Black Lives Matter and LGBTQ movements are acceptable, the slide said, but clothing or accessories with other political slogans are not.
In a tweet, President Trump blasted the alleged Goodyear slide. He urged consumers to buy tires elsewhere.
Don't buy GOODYEAR TIRES - They announced a BAN ON MAGA HATS. Get better tires for far less! (This is what the Radical Left Democrats do. Two can play the same game, and we have to start playing it now!).

— Donald J. Trump (@realDonaldTrump) August 19, 2020
The slide said unacceptable clothing included anything related to Blue Lives Matter or All Lives Matter, which upset many in the police community.
Goodyear responded with a statement, saying the slide was bogus. It "was not created or distributed by Goodyear corporate, nor was it part of a diversity training class." The origin of the slide remains unclear.
Yesterday, Goodyear became the focus of a conversation that created some misconceptions about our policies and our company. Goodyear has always wholeheartedly supported both equality and law enforcement and will continue to do so. pic.twitter.com/oO6jUg2rTR

— Goodyear (@goodyear) August 19, 2020
An audio tape surfaced too. Allegedly it's from a Goodyear diversity training session in Topeka, Kansas, and its content tracks with the slide. Was Goodyear's response literal? Did the slide (and tape) emanate from Topeka, as opposed to Goodyear's headquarters in Akron, Ohio?
Workplace Distractions
Political speech in the workplace can be tricky.
"When things like political speech come into the workplace, it can be distracting, however well intended," Cheryl Sabnis, a partner at the law firm King & Spalding, told CBS News. Sabnis added that employees should be aware that how they present themselves, as well as their behavior outside work, can get back to an employer in an era of ubiquitous mobile phones.
"It's about distracting from the work of the day— it's not about what side you are on," she said.
Trump's Response
Many interpreted Trump's tweet as a call to boycott Goodyear. Such a move could be a major problem for the presidential incumbent in the midst of a reelection campaign. Trump's response causes several issues for stakeholders connected with the company, industry and electorate.
First, suggesting a boycott threatens jobs—which are few and far between at the moment. Akron is home to Goodyear's corporate headquarters. The firm employs more than 10,000 workers, according to glassdoor.com. As of today, Democrat presidential nominee Joe Biden and Trump are in a dead heat in Ohio. Biden is polling at 46.7 percent, Trump's at 46.1, according to FiveThirtyEight.com. In a state where every vote is crucial, wishing ill to one of Ohio's economic strongholds could make a difference.
Never thought I would see a president rooting against a great American company… much less in the middle of an economic recession. https://t.co/CFDY3WxrMr
— Congressman Tim Ryan (@RepTimRyan) August 20, 2020
Buy American
Also, Goodyear is an historic, American company. It began in 1898, and is one of the few companies producing tires in the U.S.. Sending buyers to overseas competitors seems to go against tentpole themes of the Trump campaign. Trump repeatedly promises to bring jobs back to the U.S. and help struggling American-made companies.
"Donald Trump's attempts to use the office of the presidency to call for a boycott of an American company have always been jarring and alarming. But the latest broadside against Goodyear Tire & Rubber Co. feels particularly shortsighted." - @blsuth https://t.co/Dp3s75L9tV

— Tim O'Brien (@TimOBrien) August 20, 2020
While it's true that Goodyear is a large player in Akron, much of Ohio's voting population is not directly affected. However, it is possible the general public is annoyed that the White House seems to ignore pressing issues, such as controlling coronavirus and helping the unemployed.
Responding to the president's tweet, the United Steelworkers' national office touched on these themes.
"During the past year, our union and our individual members reached out directly to the President and his White House staff on countless occasions as Goodyear was closing its 90-year-old American tire plant in Gadsden, Ala., which resulted in hundreds of workers losing their jobs," USW International President Tom Conway said.
"It would have been nice if the President would have paid as much attention to that loss of American jobs as he does to his MAGA hats. Maybe a tweet or two back then would have been helpful."
Sourcing and Truth are Important 
From a PR viewpoint, there are clear takeaways:
First, put a source line on all content, even internal material not intended for external distribution. This is not a foolproof way to guard against misinformation, but it's a good first step.
Even though it appears the Goodyear slide was bogus, understand there's no such thing as internal communication anymore. Every internal document has a chance to go external. With social media, the move from internal content to external can happen mindblowingly fast. Similarly, what's said and/or done internally also has a chance to go external.
If you are representing a public figure who is sharing information on social or elsewhere, check the origin of the material thoroughly.
Remain vigilant and monitor the social conversation before a crisis occurs. In a world of cyber attacks and deep fakes, bogus content creation is becoming a booming industry. The quicker you're aware of faulty content, the faster you can try to correct false impressions.
Similarly, consider creating standing procedures for promptly combatting false narratives. Once something like the Goodyear slide spends a good length of time in public—regardless of its source or veracity—it becomes hard to control and reel back in.
There's no misunderstanding @goodyear—you've made it perfectly clear in your own words what you stand for.#BoycottGoodyear pic.twitter.com/4WjvYR2ymV

— Tricia Flanagan (R-NJ) For U.S. Senate (@NewDayForNJ) August 20, 2020
Nicole Schuman is a reporter for PRNEWS. Follow her: @buffalogal