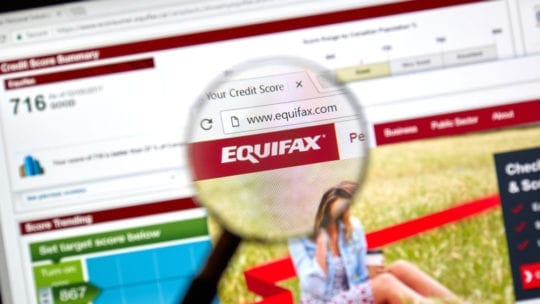 Brands always do well to focus on educating the public post-crisis, transparently explaining how they operate in order to repair trust and align with customers.
JUUL Labs educated the public on its role in helping smokers quit through its bold decisions, while Ticketmaster has combatted a crisis-laden few years by acquiring a blockchain company for live events, building trust and educating customers on the ticket-buying process to create more transparency. There's no better way to show you've learned a lesson than becoming a teacher.
If there's one brand that owns this philosophy it's Equifax, one of the largest consumer credit reporting agencies in the world, and the target of a cybersecurity incident in 2017 that exposed the personal data of over 147 million people.
In the wake of this incident, Equifax realized that many people didn't actually understand how a consumer credit reporting agency works, or why they matter in the first place. The brand also realized that the best move after owning up to this data breach was to educate people about personal finance, cybersecurity and Equifax's role in the U.S. economy. This was not just an effort to repair trust, but to make sure that its brand values were understood.
That's why, after several years leading both the marketing and PR efforts at Equifax, Marisa Salcines transitioned into the role of global university relations lead, focusing on technology and cybersecurity. Salcines will talk about what she learned as senior director of PR during the crisis, along with how education helped the brand find its identity after the fact, at the PR News Crisis Management Summit on Feb. 27-28 at the Eden Roc hotel on Miami Beach.
Ahead of her session, Salcines shared some lessons she learned about how education can mitigate crisis.
Working with an intent to educate is a perfect way to frame your values
"That's what you do when you communicate, you educate people," says Salcines. On a fundamental level, the cybersecurity incident taught Salcines and her team that many consumers didn't understand Equifax's business model, nor did they realize what credit bureaus did as a function or the societal value that they bring.
"Part of the communication process was this educational component about what we did, the importance of it, and through that process I realized that the education piece was important to all stakeholders," she says.
This led Salcines to her new role that involves her building relationships with universities, colleges, organizations working with minorities, women and underserved youth looking to expand their careers in cybersecurity and technology.
"Again, you find the same narrative—the individuals in these fields know about Equifax, but they don't know what we do, but they're really excited to know," says Salcines. "You're still educating about what we're doing and the societal value that we bring, because credit is such an important piece of the economic system."
"You go buy a car, how do you buy your first home, how do you buy anything? That trust is really built on your propensity to pay back your debt, that's how society is built. So when we start educating people about that, they see how it works. But it's a complicated conversation that takes time, that one-on-one relationship building. No simple black-and-white answer for everything."
Education creates research and resources to protect against future crises
Salcines understands that her work doesn't just stop at university education, but that she can bring the work she does back to Equifax, including cutting-edge research projects with students involving data and analytics. Equifax can then use the results of these projects to help tell its story.
"Right now I'm trying to connect the dots and elevate things," says Salcines, "because like any big corporation there are lots of things happening, but they aren't promoted enough. We've got a lot of research going on with Cornell, with Kennesaw State University in Georgia, so there's a lot of things that we can talk about."
With her communications background, Salcines plans to take those things and promote them on social channels, thus connecting the dots and showing the value to Equifax's internal stakeholders. "This is the hindsight, where I can say that if there's a crisis in the future I know that we've got all these patents, done all this great work, have these research projects," she says. "Maybe we've got a panel of professors at Cornell who can be subject matter experts and talk to the media. It's all about connecting those dots."
Follow Marisa:@marisasalcines
Follow Justin: @joffaloff